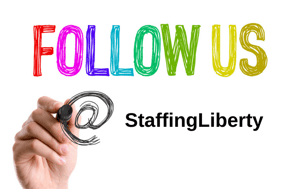 In a world that is so fast-paced and information-driven, social media platforms have become imperative to everyday life, and are multi-functional. You can connect with friends in the same city, or family members across the world. All you need is the technology and an internet connection.
Believe it or not, social media has become a great tool to use for job searching. Of course, LinkedIn was one of the more well-known platforms first on the scene, but now a lot of other platforms are chiming in and paving their way into the job seeking world. For example, Facebook launched a new job feature in February 2017. Google added a new job search engine in April.
If you are looking for work, it's beneficial to turn to social media. Social media can help improve your job search.
At Liberty Staffing, we are heavily involved in social media. We have multiple Facebook pages for our various branch locations, LinkedIn, Google + pages, YouTube, and most recently Instagram.
Did you know that we have a Twitter account? We hope that you will follow us. Our Twitter account handle is @StaffingLiberty. We post blog articles, jobs that we have available, resume tips, contests at our branch locations, and fun events in Ontario. Twitter is a great way for us to stay connected with you.
If you need more information about our available job opportunities, or our Twitter account, please contact us. Otherwise, happy tweeting!