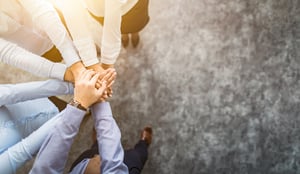 So you've hired temporary and/or permanent workers for your company through Liberty Staffing. Thanks for partnering with us to staff your business! Making sure that these new hires integrate smoothly with your current employees is imperative. It's all about on-boarding, providing thorough training, and making introductions between new team members and veterans.
If your company involves working within a large team to meet production, or to solve issues, having a team that works well with one another is important. Teamwork ensures that the business continues to run smoothly, and grow. Without it, nothing would get done.
Here are a couple of tips for instilling teamwork in the workplace.
Lead by Example
You are the hiring manager, and your employees look to you for guidance, advice, and responsibilities. You should be the role model that employees look up to. So lead by example. Be polite and respectful to all employees. Treat them how you would like to be treated. Also offer assistance to all employees. Your employees will follow suit.
A toxic workplace is often caused by a worker with bad attitude, who doesn't help out, or complains, in a team situation. This then creates a domino effect in other workers. You can nip this in the bud by identifying the bad apple, talking with them, and taking the necessary precautions.
Encourage Open Communication
Having open communication between all workers (management and coworkers) is key. You can do this by establishing weekly team meetings to discuss progress in production, and asking your employees for their input/advice on how to make the company run smoother.
Or, you can keep things more casual by having company functions once in awhile. Buying your team members lunch and eating together is also a great way to establish socialization and open communication.
Outline the Responsibilities of Each Member
Often, workers are territorial about their job and the duties that they are required to complete. This is normal, and human nature. So for example, if there are two employees at your facility with different job titles, but they are doing the same tasks, this might become a problem. When you have two employees working on top of one another, and stepping on each other's toes, this can only end in disaster.
Clearly outline the responsibilities of each member of your team. That way there shouldn't be any overlap, discrepancies, or confusion. If there is a department that needs help from other team members, make sure that you state that this is only temporary, and that it's all about teamwork.
At the end of the day, your employees should have the same goal: to complete all work.
Organize Team Processes
If your organization involves a lot of teamwork, you'll want to organize team processes. Establish who should be working at what machine, where the products will be transported, who will be inspecting for quality, etc.
Once you have established an organized plan, your business will run smoothly, and there shouldn't be any issue between team members.
Teamwork starts with you and your leadership as a manager. If you need more tips, contact Liberty Staffing today.