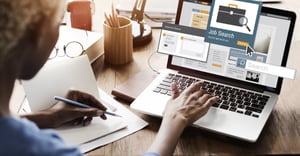 Many Canadian employees indicate their job is a point of dissatisfaction for them, and many more indicate they plan to switch jobs within the next 12 to 24 months. Finding a new job is one of the most common New Year's resolutions.
If you already have a job though, you may not want to tip your employer off that you're on the hunt for a new position. While you're not necessarily sending job applications through your work email, or making copies of your resume in the office, you might still worry you can't conduct the job search as discreetly as you'd like.
Looking for a job? Let Liberty Staffing connect you to the jobs you want. Apply today!
At Liberty Staffing, we help job seekers handle this situation all the time. Here's how we can help you manage your job search.
We Match You with Jobs
When you apply with Liberty Staffing, you'll send in your resume to us, and come in for an interview. We'll sit down with you and ask what type of job you're looking for. We'll also look at your experience and expertise, and how those align with the kinds of roles you want to explore.
Then, we match you with the jobs we have available. Using our recruiting software, we check your candidate profile with our current available jobs, and find the best fit.
From there, and with your approval, we then send your profile and resume to the client for their review.
You won't need to spend all your off time scouring job boards, and there's no risk your boss is going to catch you looking up jobs on your phone.
We Arrange an Interview with You
The interviewing process is probably the most intrusive part of the job search process. If you have to leave work early, come in late, or trade shifts with someone, your boss may wonder what's going on. You may have to use a vacation day to go to a job interview.
Liberty Staffing works with your schedule. We keep interruptions to your work schedule to a minimum. When you initially come in to apply with us, we interview you on the spot. If there are any applicable jobs available for you, we will offer them. Some of our clients do not have time to conduct interviews, which is why they've asked us to help them in their recruitment process. So ideally, you'll only have to complete one interview through us. If the client does want to interview you, we can schedule a time that works best for you and the client company.
We Can Keep You Updated
We can also help you manage following up with certain interviewers. We'll remind you to send a thank you. We also help employers keep track of candidates they liked and would consider for another open position.
We'll assist you by keeping you up to date on our job board. We can send listings that match with your preferences and notify you when a job you're qualified for appears. With the right information, you're more likely to get a new job in short order.
If you need help managing any aspect of your job search, then it's time to get in touch with Liberty Staffing.