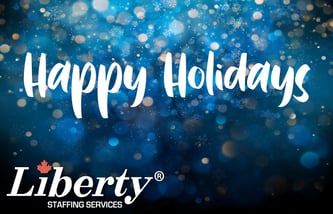 The holiday season is right around the corner!
We would like to wish you and your family a very happy holiday season! Be safe and have fun.
Thank you for partnering with us to help you find employment, or to staff your business. Your partnership is important to us, and we look forward to continuing our relationship in 2023!
About Liberty Staffing
Liberty Staffing Services is an independent staffing agency with multiple locations across Ontario. First established in 1999, we've been helping local job seekers find work, and providing exceptional flexible staffing solutions to businesses across Ontario for over 20 years!
We offer general labour, warehouse, industrial, factory, and office work in temporary, temporary to permanent, and permanent opportunities.
Our Holiday Hours of Operation
This holiday season, our hours of operation are:
Friday December 23: 8am - 12pm
Saturday December 24: Closed
Sunday December 25: Closed
Monday December 26: Closed
Tuesday December 27: Closed
Friday December 30: 8am - 12pm
Saturday December 31: Closed
Sunday January 1: Closed
Monday January 2: Closed
Contact Us Today!
If you're looking for work or staffing solutions in Ontario, contact us today!
Liberty Staffing Services connects great people with great jobs. We hope you have a great holiday season!