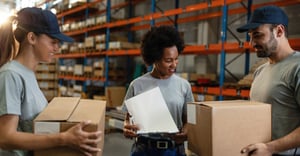 The holidays have been and gone. Now that January is here, you'll be embarking on a new adventure as you head back to school in a few days. Whether you're just starting a new program, or you're finishing up a diploma, you'll be learning new skills and completing new courses.
You'll also have a new schedule. You may be wondering how you can fit a part time job into that schedule. Between classes and homework, you might not think that you'll have time.
Looking for a job? Let Liberty Staffing connect you to the jobs you want. Apply today!
If this sounds like your situation, take a look at these five temporary and flexible jobs. They usually offer more in terms of flexibility than your typical student job, and many of them come with other advantages too.
1. Businesses Need Customer Service Representatives
Customer Service Representatives are one of the most-in-demand jobs in Canada right now, and it's easy to see why. Businesses rely on CSRs to deliver better experiences to their customers.
You might be able to find a position that works well with your new school schedule. Some CSR positions offer flexibility in terms of scheduling. You could be asked to work evenings or weekends, as suits your schedule.
2. Consider a Receptionist Role
Many busy office environments welcome students to help answer phones, greet customers, and support their full time administrative staff. Receptionists are required at a variety of businesses.
You will have a chance to learn from others in your future profession while helping to meet valuable office needs, learn about client projects, and build relationships with future employers.
3. Packagers Offer Flexible Hours
If you're looking for a flexible job that will meet your demanding school schedule, consider becoming a Packager. Package handling is often a 24/7 undertaking, so there are many flexible shifts to accommodate your schedule.
Another great benefit is that the job can be a great way to stay active/fit. Most packaging jobs require some lifting, standing, and walking during your shift.
If the idea of staying active at work appeals to you, Liberty Staffing can help youfind some great options
4. Undecided Major? Consider General Labour
Not sure what you want to do professionally? Working as a General Labourer can help you try different roles in different industries to help you develop skills, and find a career you really enjoy.
What is general labour? We wrote a blog post to help you learn all about it.
General labour roles are available in almost every industry. You could be assisting skilled workers, or completing tasks in a warehouse. Most jobs involve some level of physical activity.
5. Assemblers are In Demand
If you're interested in engineering, you might think of applying for a job as an Assembler. Assemblers and fabricators are great jobs for students because, in addition to flexible hours, they can help you understand how a product is made from start-to-finish.
Manufacturing jobs are a great way to learn about how things are made, and all the steps involved in manufacturing itself (such as quality control, inventory management, etc.).
If you're looking for a job that will work with your new school schedule, then get in touch with Liberty Staffing today! We can help you find a job that works for you.