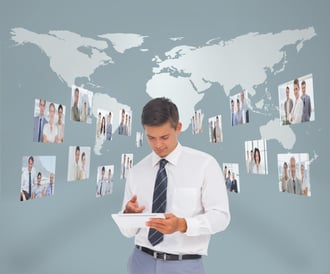 Sometimes, you're going to need temporary staff—and you might need to hire several people on short notice. This is especially true when you have a sudden influx in demand and you need to add more bodies in order to meet your customers' needs.
For many industries, like retail, this happens during the holidays. To ensure that all of their Christmas or Black Friday shoppers are taken care of, they need more associates on the floor. For others, like the agricultural or tourist industries, demands increase during certain times of the year, like in the summer, where the majority of their profits come from. Though they won't need a large staff throughout the rest of the year, they'll need to hire several people for a few months.
Of course, when you know that you only need extra workers for a specific amount of time—whether it's a few days, weeks, or months—you don't want to make the financial commitment to hiring new workers on permanently. Your best option is to work with a staffing agency for your short-notice temporary assignments.
Here's why partnering with a staffing agency is the way to go.
Short-Notice Cover
If you only needed to hire one person on short notice, you could possibly go through the hiring process on your own, either tapping into your own networks, asking for help via social media, or even soliciting resumes through online job boards. But even when you just need one new hire, efficiently handling this process on your own can be very difficult under a time crunch. And when it comes to hiring several people on short notice, it will be almost impossible to find qualified workers, screen them, and train them by the time you need them.
A staffing agency will be able to supply you with any number of new workers as fast as you need them, because it has a roster of qualified candidates to call on, on short notice. Its recruiters aren't starting the hiring process from scratch when you call—they've already recruited and pre-approved selected candidates and put them in their candidate pool for when clients like you call. These workers will be ready and willing to take on short-term work at any moment, so you can cut downtime.
Quality Candidates
Though you could likely find warm bodies to fill your open positions, that's not really what you want. You don't want to hire several people just because they were the first ones to reply to your job posting. You need skilled and experienced workers who are actually qualified for the job. If you don't ensure quality hiring, you will likely face reduced productivity, a higher chance of injury, and longer training time, which can all hurt your business.
Because a staffing agency's recruiters are always on the lookout for great talent, they're well prepared by the time you call seeking new workers. They've had all the time they need to screen and test candidates for their skills, do their due diligence and perform background checks, and ensure that the people they recruit are completely qualified for the jobs they'll be placed in. You won't have to settle for mediocre workers. Even when you're under a time constraint, you'll get access to a large number of high-calibre workers.
Reduced Costs
By using a staffing agency for your short-notice, short-term needs, you'll be able to lower your costs. The agency will take care of the entire hiring process, so you won't have to worry about the costs associated with resume evaluation, pre-employment testing, or background investigations. What's more, because you'll only get qualified workers, you'll be able to reduce your training costs, and save on the money you might have lost due to reduced productivity. You'll also save costs of payroll processing and administration, as the staffing agency will handle that, too.