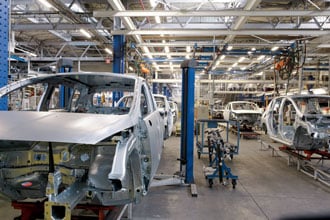 Looking for a job can be tough. In addition to the endless hours spent searching for relevant positions, writing resumes and cover letters, or cold-calling companies, you have to prepare for an interview, which is its own lengthy process. With the time and effort it takes to find a job, it's no wonder so many people settle for the first one they find, even if it's in a field or role that they're not particularly interested in.
But if there is something specific you're interested in–the automotive industry, for instance–you shouldn't have to settle for less. It can be well worth your time to get your foot in the door of this industry, but it can be a challenge to do so on your own.
The good news is, there is help. You can find great automotive jobs and opportunities by using a staffing firm. Here's how.
Resume Checks and Interview Prep
For most of us, moving forward in any career path starts with one key thing: your resume. By using a staffing agency, you can get professional help on how to best tailor your resume, outlining key skills and experience that are relevant to automotive jobs.
They can further help you prepare for interviews; because they are experts in the industry requirements for the field they hire for, they know what kinds of questions are asked by automotive industry hiring managers, what skills are needed, and how to get your foot in the door. Working with a staffing agency will help you perform your best in the interview.
Learn about New Opportunities and Diversify Your Skills
One great aspect of working with a staffing agency is that you can learn about so many different opportunities, even in one industry. For example, if you know you like cars, a staffing agency can help you explore various types of automotive jobs–from sales to design to manufacturing, and a host of others. Whether you're looking for temporary or full-time positions, you'll be able to gain new skills, diversify your qualifications, and expand your resume.
Access to Hidden Job Markets
For most people who don't have access to industry leaders, hiring managers or other key personnel in an organization, learning about new opportunities can be challenging. You have to find them the way everyone else is finding them–on job boards, through word-of-mouth etc.–and the competition between you and other candidates for the role increases.
Staffing firms, however, have access to hidden job markets that the average job seeker isn't aware of. Because so many companies use staffing firms exclusively, they don't publicly post these jobs themselves. The automotive jobs you're looking for can be found, but only through the right agency. When you partner with a recruiting firm, you'll have access to many great opportunities that most people wouldn't even see.
Take Advantage of Their Great Relationships with Hiring Managers
The reality is, hiring managers tend to trust recruiters. This means that, when a recruiter gives your resume with a great referral to a hiring manager, they are more likely to keep it at the top of their pile. They're more likely to seriously consider you, and you're also more likely to progress to the next stage of the hiring process.
Partnering with a staffing agency for your automotive jobs search will allow you to take advantage of this and gain a valuable ally in your job search.
The key thing is, when you use a staffing firm, you've gained a resource and an advocate who will fight for your candidacy.
Contact Liberty Staffing today to get help finding the automotive jobs you want.