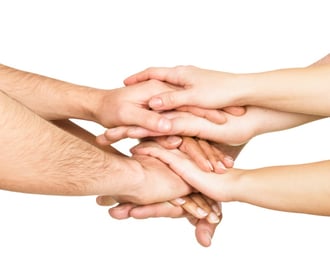 Looking for a job is tough. Just about everything about it is difficult. Not only do you have to spend endless hours searching for open positions and writing and rewriting cover letters, but you have to try to get yourself noticed, too. And this isn't easy. You have to try to demand attention from hiring managers so that they give you a shot. But how can you do that? How can you stand apart from the sea of competition?
You have to somehow get your foot in the door if you want a shot at getting hired. But when you're searching for a job on your own, this can be particularly difficult to achieve.
The good news is, it doesn't have to be. You don't have to go at it alone. You can get the help you need by applying to a temp staffing firm.
A staffing firm can improve your job search by helping you get your foot in the door and open up many new opportunities for you. Here's how.
The Hidden Job Market
It's hard to get your foot in the door if you don't even know if the companies you want to work for have any open positions, especially if you have no way to apply. It's certainly an uphill battle. But when you work with a temp staffing firm, you'll get access to the hidden job market. The wide majority of open positions aren't advertised online. Many companies use staffing agencies exclusively to find new talent. So when you partner with a temp staffing firm, you'll suddenly have access to many new opportunities.
Your Top Supporters
Even if you find a job opening that you want to apply for, it can be difficult to get noticed by the hiring manager. You're probably used to constant rejection on your job search. You send out dozens of resumes and don't hear back. When it comes to finding a job, more often than not, it's about who you know. Having a referral can go a long way towards making an impact. And when you work with a temp staffing firm, you'll have recruiters as your top supporters.
Great Relationships with Hiring Managers
It's really beneficial to have recruiters on your side as your supporters. Why? Because hiring managers trust them. They've worked with these recruiters for a long time. So when a recruiter hands your resume to a hiring manager, saying that you should be at the top of the pile of candidates for consideration, the hiring manager will listen because he knows he can trust the recruiter's judgment. It could mean the difference between having your application ignored and being the first one called for an interview.
Interview and Resume Tips
If it's not great enough that you'll have strong supporters going to bat for you by working with a temp staffing firm, consider this: your recruiters will even go one step further by offering you the advice you need to really make a good impression. They'll work with you to create the best resume that will demand attention. And they'll give you interview tips so you can shine when you're meeting your potential new employers.
Skills, Experience, and Contacts
One of the most valuable parts of working temporary assignments through a temp staffing firm is that you get to diversify your portfolio. You get to continuously gain new skills, experience, and contacts with all of the different companies that you work for. The skills and experience you gain will be great additions to your resume and the contacts you make might just be the people who will end up helping you find the career of your choice down the road. Temporary work is worth it—it can help you in your future.