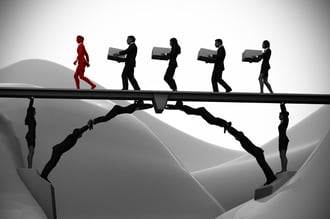 Whether you've decided to change careers or you're fresh out of school and looking for your first job, your lack of previous experience may harm your chances of getting noticed by hiring managers and being called up for an interview. They might glance at your resume and decide that you're not qualified enough.
The fact is even though cultural fit and soft skills are important employment success indicators and you might be great for any given job, you could be completely overlooked because hiring managers place a lot of significance on previous experience. When you've been at one job for a long time or you haven't had much more work under your belt than a paper route, a near-empty experience section on your resume can be all hiring managers need to see before throwing your application in the trash.
It's a common conundrum—every employer wants you to have experience, but how can you get experience if you need experience to get hired in the first place? Instead of racking your brain, do what so many others have done in your situation: gain experience through a temp staffing firm.
The Argument for Temp Work
We know, we know. You're probably looking for permanent work. You don't want to spend your time on small, temporary assignments when you really want to be out there, finding your next career. But taking temporary work through a temp staffing firm can get you one step closer to getting that career that you're looking for. You can pay the bills while you continue on the job search, while also getting the much-needed experience you need to fill out your resume and become a serious competitor in the job market.
Work with a Niche Temp Staffing Firm
You might think that temp work isn't for you if you're planning to go into a specialized field, but you'd be wrong. The temp staffing industry has evolved drastically, and you can now find temporary work in virtually any field. Simply search for a niche temp staffing firm in your area that places candidates in jobs in the industry that you're pursuing. You can find an agency that works solely in the medical field, the information technology field, the finance field, the manufacturing industry, and just about everything in between. When you work on temporary assignments, you won't just be doing administrative work—that's just a common misconception. You'll be doing work in your field of preference and gaining valuable experience that hiring managers will look for in the future when you apply to your dream career.
Varied Experience
Every hiring manager is going to be interested in different types of experience, so you shouldn't limit yourself. Working with a temp staffing firm can help you widen your portfolio. Every company you work for on a short-term basis will provide a different type of experience, and you'll gain new skills along the way. A wide variety of new soft skills and specialized skills coupled with varied experience with different roles and companies will make you a force to be reckoned with on your job search. Increasing your marketability through a wide range of temporary assignments will make your job search easier when you start looking for a permanent career.
Bridge the Gap to Permanent Work
It pays to take on temporary work through a temp staffing firm. When your resume is lacking due to your relatively low amount of experience, you might not grab the attention of hiring managers when you're looking for a permanent career. By taking on temp work in order to gain the experience you need first, you can bridge the gap to permanent work, making it easier for you to land your dream job sooner, instead of continuing to be looked over time and time again due to your lack of experience.