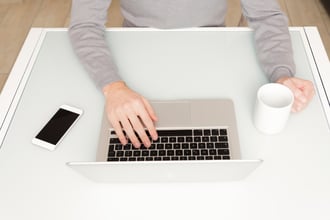 With the new year upon us, you might be looking for a fresh start with a new career. Though your excitement is admirable, you might quickly become deflated, frustrated, and stressed on your job search. The fact is hunting for a job is tough. There are more qualified candidates than there are job openings, so it's a lot more common to get totally ignored, or rejected, than it is to get an interview and get hired. After a few days or a few weeks of updating your resume, writing cover letters, shaking hands, and keeping your head up high, you might want to give up.
Though a job search can take longer than you expect, you can speed up the process by simplifying it and improving it in order to obtain better results. Consider making the changes below to your current job search.
Review Your Resume
Take a really good look at your resume. Would you hire you?
Is your resume outdated? Are there possible spelling and grammar mistakes that you're missing? Is it too long and boring? Is it too short so no hiring manager can get a good understanding of your qualifications?
If you're not sure that your resume is truly as good as it could be, get some feedback. Contact a resume writing expert or even ask your friends or family members to offer constructive criticism. If your resume doesn't make you sound like a stellar applicant, your job search is going to be tougher than usual. Make a great first impression with a great resume so you can improve your job search.
Optimize Your LinkedIn Profile
First things first: if you're seeking employment, you absolutely need to be on LinkedIn. This social media platform for professionals is widely used by recruiters and hiring managers alike. They use LinkedIn to find qualified candidates and to learn more about applicants. You can't afford to miss out on the opportunity of being found on LinkedIn.
And for job search success, make sure your profile is optimized. Use industry-related skills and keywords. Join groups and communities in your industry and be active—learn from and contribute to conversations.
And don't forget to connect with other professionals and grow your presence. All of these efforts will give you a better chance of finding employment.
Be Active on Other Social Media Sites, Too
Social media sites are beating out online job boards and other websites. More companies are now using their Facebook and Twitter accounts to display new job postings, so you could miss out on great opportunities with your favourite companies if you're not following them on these platforms. Plus, these sites also give you an opportunity to research companies and learn more about their company culture.
Get Comfortable with Video
Want to get ahead of the competition? Then it's time to get comfortable with video. Both video resumes and interviews are becoming more popular and if you can't promote yourself well with this method of communication, you're going to have a more difficult time getting hired. Creating a video resume can give you an edge over your competition, and feeling confident in front of a video camera so you can nail Skype interviews can really give you a leg up, too.
Connect with a Staffing Agency
Staffing agencies get a bad rap, but they can seriously help you to both simplify and improve your job search. They'll find temp and permanent jobs matching your qualifications, they'll send in your application for you, they'll give you a good recommendation, and they'll even set up your interview and offer you interview tips. Staffing agencies make searching for a job so much less of a hassle. And they do it all for free! Applying to a staffing agency can allow you to land a job you love, faster than you could on your own.