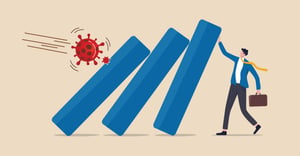 The current pandemic has many business owners wrestling with numerous challenges. If your business is allowed to stay open, you may face resistance from staff who don't want to risk coming in to work. You might be thinking about moving some roles to remote work, or even taking your entire business online.
You're also thinking about the future. As the risk passes and businesses open up again, how quickly will you be able to transition back? Plant managers might wonder if they'll be able to hire back all the hands they need, or if there will be some empty roles to fill. What about summer hiring plans? Those may be on hold for the moment, but when you get the green light, you'll have to be quick in finding staff.
In these uncertain times, one of the best things you can do is make sure you have a great plan in place for managing staffing. When you work with our team at Liberty Staffing, you can rest assured we'll help you manage staffing the right way, through all sorts of challenges.
Download our whitepaper to see how we solve our clients' evolving staffing issues
How can Liberty Staffing Services help your business? Here are some of the ways that we assist our clients every day.
Creating a Flexible Workforce
In uncertain times, business owners like you require increased flexibility. Today, you might be looking at temporarily closing down your factory line. Tomorrow, you might receive an order from the government to switch over production to making medical masks, hand sanitizer, or ventilators.
This could create challenges for staffing. If you lay everyone off today, who will be ready to come into work tomorrow? You might be able to get most of your team back on such short notice, but what if the delay is weeks, or even a month? There may be vacancies, and you may even need to hire more hands as you increase production.
Flexible staffing is key in this situation. We assist you in creating a flexible workforce that can scale up and down as you need it, when you need it.
We can also help you create agreements, such as temporary-to-permanent contracts. These allow you to hire on some of your temporary workers, as permanent roles open up. An arrangement like this offers you increased flexibility, and also reduces your time to hire.
Finding the Right Fit
Another way we assist our clients is by helping them locate qualified candidates. That means helping them find the right fit for their business needs. We support you in assessing job applications, not just for skills, but also for cultural fit.
When a worker and a company's values align, the worker is more likely to be engaged and motivated to perform. They may also decide to return the next time you have an opening. You might even consider bringing them on board permanently, if you have a role available.
When you can locate the right fit, you'll see productivity, and even workplace culture improve.
Assessing Your Needs
Liberty Staffing also helps you determine your hiring needs on an ongoing basis. We show you the data, and make recommendations about when to hire, and even how many people you might want to hire.
We'll look at this on an ongoing basis, which builds flexibility into your workforce. With the right numbers in hand, you can scale up and down with ease.
Make Hiring Simple
Finally, we'll help you simplify and streamline the hiring process. Not only will you locate better candidates, but you'll also be able to find them in short order.
We use screening to select the right candidates for any job. Liberty Staffing even conducts initial interviews before we pass along applications for your review. In turn, you'll spend less of your time reviewing applications and interviewing candidates.
In this rapidly changing environment, smart management of your staffing is a must. Partner with Liberty Staffing today to help you meet these challenges.