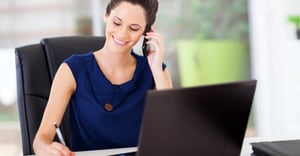 Are you looking to hire staff for your business? As an employer, you may be wondering about hiring team members on temporarily. Does it make sense for your business to hire temporary workers? Will you need to create permanent positions later? What about legalities and contracts?
Download our whitepaper to see how we solve our clients' evolving staffing issues
We'd like to introduce you to a different staffing solution: the temporary-to-permanent hire. At Liberty Staffing, we help businesses facilitate temp to perm hiring. If this sounds like it could be a solution that works for your business, this guide has everything you need to know.
1. The Benefits of Temporary Workers
The first thing to know about temp to perm hiring is that your business still gets all the benefits of temporary workers. That makes it a great option for employers who aren't sure if they'll need someone to stay on permanently. Instead of creating a new permanent role, you can create a temporary one that can easily transition to permanent if you need it.
This is useful for businesses testing out new product or service offerings. If the pilot program goes well, you can transition your workers. If the idea isn't as successful as you'd hoped, then it's easy to end employment arrangements.
The same is true of new projects. Maybe you think a data entry project is a one time thing, but you realize just how much help you need with this aspect of your business. Maybe you're not sure if this is a one time uptick in demand on your line, or if it's your new normal.
Either way, you can hire temporary workers to help you manage these new projects or demands.
2. The Option to Hire
Let's imagine your new service line is a roaring success. You're going to keep offering this service to your customers, and to do that, you need to have a team to deliver the service. You may even have to staff a separate department.
It makes perfect sense to bring on the temporary team that helped you make the service successful in the first place. The same is true when you realize that one time uptick in demand is your new norm, and you must create permanent positions to keep pace.
Your temporary workers are already trained. They've already made it through your hiring process, and you've already witnessed their work ethic. Why spend the money searching for, hiring, and training someone else if you have the right person already?
With temp to perm hiring, you don't need to let your best temporary workers go. Instead, you can transition them to open permanent roles as they become available. You and the employee truly get the best of both worlds with a temporary to permanent agreement.
However, if there are no open roles, you're not under any obligation to hire someone permanently. You can instead encourage them to reapply with you for other positions as they become available.
3. Liberty Staffing Can Help
One of the reasons employers don't always think about offering temporary to permanent hiring is due to the additional legal concerns. The contract for temporary workers has to be altered to allow for permanent hiring. You want to be sure you're including the right provisions, and none that will leave you open to legal action.
At Liberty Staffing Services, we can assist you with the temp to perm hiring process. We use our expertise and technology to help you find quality temporary workers you'll want to hire on permanently.
If you're not sure if you need temporary workers, permanent workers, or some mix of both, get in touch with Liberty Staffing today. We'll help you solve your staffing needs, and find the right hiring solution for your business.