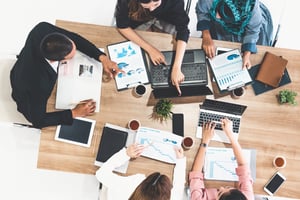 Fall hiring season is here, and the holiday rush always follows hot on its heels. Many businesses across many different industries experience upticks at this time of year. People may be placing more orders, or they could be seeking more services as summer fades and the year winds down.
Download our whitepaper to see how we solve our clients' evolving staffing issues
These seasonal upticks present several challenges for hiring managers and business owners alike. By partnering with us, you can be ready to conquer those challenges before they even arise. Here's how.
We Help You Plan for Hiring Needs
The first thing we do for any of our clients is assess their hiring needs. That way, we can create an effective plan to find you the workers you require.
We'll help you identify hiring patterns in your operations and make predictions about when you'll need to hire, how many people you'll need to hire, and which roles you'll need to hire for.
Create Ideal Candidate Profiles
Knowing who you want to hire can make it much easier to find them when you're ready to fill a role. That's why we'll help identify your ideal candidate. With your guidance, we can help create the ideal candidate profile for your business, and the role you need filled. We will use this as a reference in future, during your peak hiring seasons.
By doing this behind-the-scenes work before a seasonal uptick hits, we'll be ready to find the right candidates in short order.
Improve Your Job Descriptions
Another trick to finding the right candidates when you need them is using the right job description. If your descriptions are vague, you may find that candidates who aren't qualified will apply for your job. On the other hand, if your job description is too specific, you might be discouraging top talent from applying to the role.
We'll help you review and improve your job descriptions. This will be sure to help attract the ideal candidates from the get-go.
Streamlining the Hiring Process
Another step we take to help our clients plan for busy hiring seasons is reviewing the hiring process. When peak hiring season hits, you must be able to hire top talent quickly. Unfortunately, a lengthy or complex hiring process slows you down.
We'll review each stage in your hiring process and work to streamline it. We work with you to combine steps and eliminate redundancies, so you can move through the hiring process with speed and ease.
We have recruitment technology to help your hiring process. This technology simplifies the hiring process, and cuts the time it takes to sort through applications or schedule interviews.
With the best tools and the right team, you can simplify your hiring process and find top quality candidates sooner.
Prepare for Future Seasons
While you're concentrated on getting through this busy period for your business, we'll be thinking to future seasons as well.
We'll help you make the right decision on hiring temporary employees, seasonal workers, or temporary-to-permanent workers for your business. We'll partner with you to analyze trends in the business so you can prepare the right kind of employment contract for your staff.
We'll also operate with you to keep improving. We'll collect feedback on your favourite seasonal workers so we can invite them back to work with you the next time business picks up.
Get Started Today
Don't wait until the rush hits to partner with us. Get in touch today and we can craft your hiring plan so peak recruitment season will be simple and smooth.