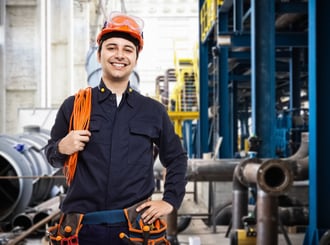 General labourers are used in a wide variety of industrial companies. These workers might take on many different tasks, like cleaning and inspecting equipment, documenting work, checking products, shipping, receiving, loading, and more. Though much of the work that general labourers do might seem simple and easy, in actuality it requires a lot of physical strength, safety consciousness, and great attention to detail. In addition, general labourers might work in harsh and dangerous conditions, like in the extreme cold or in enclosed spaces. They might work up to 16 hours a day. And they might work with hazardous materials and dangerous equipment. It's a tough job and it requires the right type of person to be able to perform duties safely and efficiently.
So when you need to find and hire general labourers quickly, you might have a tough time finding someone that fits the bill. Hiring the wrong person can lead to increased risks and liabilities and reduced productivity, so it's critical that you do not rush through the hiring process because you're under a time crunch and it's important that you do not hire the wrong worker because you're desperate to fill the position quickly.
When you need to hire general labourers—whether temporary or permanent—you should engage a staffing agency. This is your best bet, not only for filling those positions in a timely manner, but also for filling them with the right workers.
Here are some of the reasons why engaging a staffing agency is your best bet.
Engage a Niche Agency for More Qualified Candidates
A niche staffing company is one that works within a specific industry and hires for very particular positions. When you engage a niche firm, one that is dedicated specifically to the warehouse and industrial fields, you'll benefit from the firm's specialty by having access to a whole wealth of qualified labourers.
A niche agency can save you time and money as its recruiters will be dedicated to finding and recruiting ideal candidates who have the skills and experience required to handle laborious tasks. So when you call requesting general labourers, you'll be greeted with a long list of potential candidates to choose from—candidates who are right for the exact role you have open and right for your unique company. You won't have to settle for less because of the time constraints or because you aren't getting any qualified applicants. Having access to qualified candidates can significantly reduce your risks and ensure optimal productivity, from day one.
Enjoy the Benefits of Faster Hiring
When you have unfilled labour positions, your productivity suffers. You might also end up overworking your current general labourers, which can lead to burnout, low morale, stress, and high overtime costs. When you have hiring needs that need to be met immediately, you just don't have the time to go through the entire hiring process from start to finish. Every day that you lose costs you.
A staffing agency can help you hire labourers quickly. It won't start the hiring process from scratch. It'll already have pre-screened and pre-approved candidates for you to choose from. You'll be able to get your new workers on site in a matter of days, or sometimes, hours.
Don't Waste Time on In-Depth Training
When you're in need of labourers quickly, you just don't have the time it takes to train someone. Hiring through a staffing firm can eliminate the need for in-depth training, which means your new hires will be able to start working immediately. Because the recruiters will only offer you possible candidates who already know what they're doing, and because the staffing firm will help with onboarding and training, you'll benefit from higher productivity and less wasted time when you need it most.