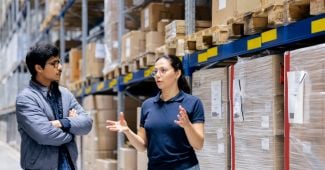 The COVID-19 pandemic changed warehouse operations significantly, especially as the industry had to adapt to supply chain issues. Although some warehouse supply chain issues have been resolved, there are still long term implications of the last few years.
Staffing is one of the many areas affected by supply chain issues. If your warehouse needs new employees to adjust to the constant changes in the industry, Liberty Staffing Services can help. Reach out to us to gain access to highly qualified job candidates right away.
Let's take a look at the ways that supply chain issues have affected the warehouse industry – and will continue to do so.
Increased Risks
Supply chain interruptions make warehousing a riskier operation. We can predict some future challenges, but others come out of nowhere. Similarly, warehouse industry specialists may know that a disruption is coming, but they can't pinpoint when it will start affecting operations.
The risks can include having too much or too little inventory in the warehouse, inventory replenishment issues, being over or understaffed, and struggling to respond quickly enough to unexpected changes.
Some warehouses had to close in the wake of the pandemic, especially if they were completely dependent upon a single type of inventory affected by long-lasting delays. Warehouses that were able to adapt to these market changes were the most likely to survive.
Increased risk means that investors may not be as likely to add a warehouse to their investment portfolio, and it may make it harder for someone who wants to retire or move on from the warehouse industry to sell their business.
However, warehouse operations are starting to return to normal after the biggest disruptions in the supply chain, and the investment risk should return to normal soon.
Increased Automation
Automation has been a warehousing trend for years, but the pandemic accelerated the movement. Automation can track inventory more efficiently, improve the use of floor space, reduce labor costs, increase productivity, and make the warehouse a safer place to work.
Automation also helps warehouse managers make fast adaptations when supply chain issues arise. Instead of scratching your head, trying to figure out what changes to make, warehouse management automation software can recommend the most effective changes to minimize unnecessary expenses.
The Bullwhip Effect
Supply chain problems can have what is called "the bullwhip effect." This is what happens when small changes in supply and demand at the retail level can have major impacts on demand at the pre-retail levels: wholesale, distribution, warehousing, manufacturing, and raw materials.
Think about what it's like to snap a whip. The movement of snapping your wrist to use the whip is a tiny motion, but physics causes the whip to move in a wave-like pattern that becomes larger and more profound. This definitely happens in warehouses.
One area that has not fully recovered from pandemic-era delays is auto manufacturing. A delay in the manufacturing of semiconductor chips was one of the reasons why new car manufacturing was significantly delayed for the past few years. Warehouses struggled to adapt to these major changes.
When people couldn't buy new cars, the demand for auto parts and components decreased significantly, leaving warehouses with overstock that didn't go anywhere, thus taking up valuable storage space and reducing the warehouse's ability to shift to an industry that wasn't so delayed.
Inventory replenishment challenges arose when certain products were simply not available. These shortages were frustrating for the consumer, the retailer, and the warehouse manager alike.
Storage Capacity Issues
When shipments are delayed, they take up a lot of space. How will you manage it? Many warehouses are increasing their storage capacity so that they can adapt to supply chain hiccups. It is a great idea to have more space available in case you need to hold onto inventory.
Having more space means that you don't have to lose as much income to inventory that isn't moving, because you still have enough room to move product that is currently in demand.
A Need for Better Warehouse Management
Warehouse managers have always had to be good at their jobs, but the demands on warehouse management have increased substantially in the last few years. Supply chain management has become more complicated than ever before.
Today's warehouse managers must optimize every aspect of the warehouse: inventory, employees, and processes. Their job is to maintain satisfactory turnaround times in a cost-effective way, even in the face of supply chain disruptions.
When warehouse supply chain issues arise, they have to have a strong plan for how to adapt and adjust.
Staffing Changes
One of the best ways to adapt to changing warehousing operations is to have a nimble and scalable workforce. Temporary workers are an excellent way to achieve this nimbleness.
When you hire temporary workers for your warehouse, you get the benefit of scaling up quickly to adjust to periods with increased activity. However, if things slow down again because of an unexpected supply issue, you don't have to do the unsavory work of layoffs. That's because your employees know when the end of their contract is.
You can always extend the contract if you and the employee are happy with the arrangement, but if things cause a problem, your employer/employee relationship ends without any bad blood or friction.
Hiring temporary workers also helps you give potential permanent workers a "trial run" to see if they are a good fit for your organization.
Liberty Staffing Can Help You Weather Supply Chain Issues
Liberty Staffing Services helps businesses in Southern Ontario with all of their staffing needs. We have deep connections within the communities where we operate, which allows us to find the best candidates for your open positions.
Contact us today to learn more about how we can help!