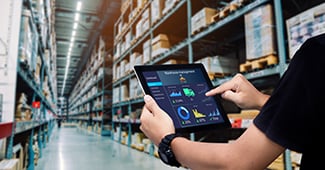 No one would be surprised to hear that technology is changing the warehousing industry. After all, technology is changing every industry!
But a big, important question is this: HOW is technology changing the warehousing industry? And what can warehouse managers and job seekers do to adapt to these changes?
Liberty Staffing works with warehousing professionals in multiple capacities. We help people find great jobs in warehouses, and we also help employers find the best new people to join their warehouse team. Contact us today to find out how we can help your warehouse connect with the best new hires!
Now, let's take a look at how technology is affecting the warehouse industry!
Automation is Becoming Commonplace in Warehouses
There are countless ways for automation to play a role in the day-to-day operations of a well-run warehouse.
One of the most common automation strategies is to use a Warehouse Management System (WMS). Available at different price points and implementation options, WMS solutions help warehouses maintain ideal inventory levels, analyze operations, and fine-tune processes. WMS prevents overstocking and understocking, as well as helps to utilize space as efficiently as possible.
Another automation strategy that is gaining popularity is the use of collaborative mobile robots that guide employees through their tasks. This increases productivity and prevents costly mistakes.
Technology Reduces Human Error
When warehouses train their employees to implement technology solutions to perform their job tasks, it can reduce human error.
Internet-connected devices, barcode scanners, sensors, RFID tags, and data management are tools that your staff can use to perform the work of a warehouse faster and more effectively. Save money and time by creating a seamless integration between your employees and your tech.
GPS Tracking is Changing the Way Shippers and Receivers Do Business
The shipping and receiving workers in your warehouse are some of the people who will be most affected by improvements in GPS tracking capabilities.
GPS, when used in conjunction with RFID tags, makes it possible for shippers and receivers to track their shipments, sometimes even in real-time. This kind of precision tracking allows people to know exactly where their shipment is and when to expect it to arrive at its destination.
This is great for improving communication between vendors, increasing overall transparency in the warehousing process, and solving problems without the need for so many customer service calls.
Think about how great it is when your consumer can track their shipment without needing to call or email customer service over and over. This saves your customer service reps time, and it helps your consumer feel more informed!
Drones/Robots Support Warehouse Operations
Warehouse drones and robots don't replace humans; they supplement the work that humans do. Robots also have the potential to make work safer.
They can even build morale! During a booming job market when your warehouse may be understaffed, robots and drones can reduce the workload of your current employees. That means people feel less likely to become overwhelmed by their job circumstances.
Employers benefit from drones and robots, as well, because tasks get done faster and with fewer overtime costs.
Staffing Agencies Use Hiring Technologies to Find the Best Workers
Warehouses are supported by the technological advancements in other industries too.
For example, many warehouses outsource their hiring and onboarding to a staffing agency (like Liberty Staffing) because of the technical expertise that these agencies bring to the table.
Warehouse managers need to be experts in warehouse management, not in the latest developments in staffing and recruitment technologies. Let a staffing agency handle what we do best: using our existing networks, screening tools, hiring software, and decades of expertise create the perfect employee/employer pairings!
Find Great Workers Today!
If you're looking for new team members to join your warehouse staff, Liberty Staffing is here to help!
We help warehouses find great additions to their staff, including part time, full time, temporary, and permanent hires. No matter the position or shift you're hiring for, there are plenty of people out there looking for work. But when there are so many positions available, you have to outcompete everyone else who is hiring.
Whatever you're looking for, we can connect you with the right people! Reach out to Liberty Staffing today to learn more and let us help you find the hires you're looking for.