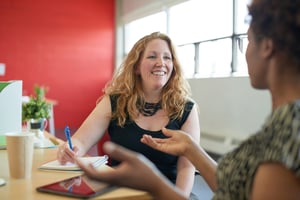 So you've been hired on through Liberty Staffing Services. Congratulations! Now that the job hunt is out of the way, and we've placed you in your ideal role, it's time to get down business.
Making a good first impression at your new job is really important. Having good communication from the start is ideal, and is key to your professional success. It's particularly imperative that you have great communication with your supervisor/hiring manager.
Liberty Staffing Services would like to provide you with some tips to help you communicate with your supervisor effectively. Read on.
Schedule a Meeting
Normally, your supervisor should scheduling meetings with you, especially when you've just been hired on. However, your hiring manager might be caught up in other tasks. In this case, you can always schedule a meeting with them at a later date to discuss your next tasks, duties, targets you should be hitting, etc.
These meetings could be a conference call, or a meeting in-person. We would advise a meeting every month or every other month, especially when you first start out in a position.
Having occasional meetings with your supervisor is important, not only to keep you on track, but to build a strong connection and open communication with your supervisor.
Follow Up
As time goes on and you become busier in your role, it's important not to forget to follow up with your supervisor on the tasks at hand. Send a quick email or call your manager to let them know of your progress on the tasks that were assigned to you during your previous meeting.
It's always better to take the initiative and send a follow up to your boss instead of them reaching out to you to see what's been completed. You don't have to follow up with your supervisor everyday, just whenever you need. And if you have lots of projects on the go, it's best to state the progress all at once.
Keep in Touch
If things seem to be running smoothly, and you haven't heard from your manager in awhile, that's okay, but it's always important to keep in touch with your boss in some way or another. If you go for weeks on end without seeing or hearing from your hiring manager, take a moment to send a quick email to them. Ask if there is anything else that you can do. Keep in touch to keep that connection strong.
We hope these tips will help you in your new career. If you need more tips, contact Liberty Staffing Services today.