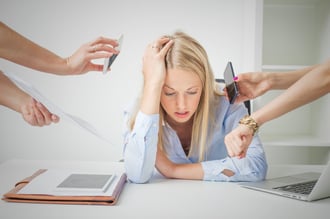 Though hiring should be strategic and methodical, it should also be fast. Hiring is getting slower and slower—it has increased by 10 days on average in the last few years. You need to speed up the process or you risk damaging your recruiting and business results. When you don't have the time to fill empty positions quickly, you risk losing high-demand candidates to your competitors, losing out on significant productivity and revenue, and negatively impacting your customers and employees.
We know it can be difficult to fill empty positions quickly. Recruiting and hiring is time consuming. You have to spend a lot of time sifting through resumes and interviewing, among other tasks. When you have no time due to other responsibilities, you could procrastinate on finishing the hiring process, which isn't good for your employer brand or the candidate experience.
Fast hiring is important. If you don't have time to dedicate to recruiting and hiring, engage a staffing agency. Here's why it's your best option.
Pawn off the Legwork
Writing job descriptions, posting advertisements for empty positions, reviewing hundreds of resumes, playing phone tag with candidates, interviewing and assessing prospects, background checking—this legwork takes a lot of time, usually more than a month to complete. Managing recruitment functions in house certainly has its drawbacks, such as the time commitment required. You simply might not have the time needed to do it all—and do it all efficiently and effectively.
And you don't have to. When you engage a staffing agency, these tedious tasks will be taken care of for you. Your agency's recruiters will go out searching for candidates, communicate with them, and assess them. You'll still be in charge of the final hiring decision, of course, but you won't have to deal with the time-consuming hiring activities involved.
Pre-Screened, Pre-Approved Candidates
The longer you wait to hire, the lower your productivity, morale, and possibly your revenue. This isn't good for business. When you hire in house, you have to complete the hiring process from start to finish. Unless you've made it a priority to continuously recruit, even when you're not hiring, you'll have to start the process from scratch because you won't have any candidates to consider right off the hop.
But when you work with a staffing agency, you'll gain access to its large candidate pool. Its recruiters spend their days seeking candidates just like the ones you're looking for. These candidates are pre-screened and pre-approved before you even call requesting help. And because you'll gain access to these candidates, you won't have to waste time going through the entire hiring process. You can fill your empty positions much faster, which will benefit all aspects of your business. Instead of waiting a month or more for a new hire, you can have one start in just a few days, which is particularly ideal if you're hiring on short notice.
Reduce the Risk of Bad Hires
When you don't have the time required to recruit and hire efficiently and thoroughly, you might skip steps, like the reference checks and skills testing, which can be devastating–it can result in bad hiring decisions. When you rush through the hiring process just to get it over with and have someone start right away, you could be hurting your business in so many ways. Bad hiring decisions can lead to higher turnover and associated costs, an increase chance of mistakes and injuries, reduced productivity, and lower morale, among other consequences.
You shouldn't risk making hiring mistakes just because you don't have the time to hire on your own. A staffing agency's recruiters will have the time needed to fully dedicate themselves to the recruiting and hiring process to ensure that it's done right. They won't skip steps, they won't rush, and they'll be strategic and methodical, so you can count on your new hire being a successful placement.