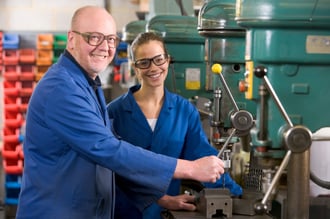 No matter how effective your recruitment and hiring strategies are, sometimes, unforeseen circumstances and staffing problems occur. Your machine operator could suddenly call in sick, go on leave, or give notice.
Although this can be potentially detrimental to the efficiency of your operations, you don't need to panic. Stay calm, because there are ways to find qualified machine operators on short notice, whether for temporary work or for permanent positions, on short notice. You don't have to leave the positions unfilled for weeks at a time, and you don't need to hire unqualified workers who could potentially cause hazards and reduce productivity.
Here are some of the ways you can find qualified machine operators on short notice, so your operations can keep running smoothly, without delay.
Have a Database Prepared
You never know when you're going to need new workers, so it is best to be proactive and prepared in case a situation arises in which you do. You might receive resumes from job seekers when you don't currently have any openings, but that doesn't mean you should throw them in the trash and forget about them. These job seekers could be skilled and experienced machine operators, and it behooves you to keep them on file in case you need someone on short notice. Whenever you receive inquiries about job openings, take down the details of the qualified applicants and place their resumes in a database for future use.
Even if you've performed interviews with qualified candidates in the past but went another way for that specific opening, keep them on file. Even if they weren't right for the job at that time doesn't mean they won't be perfect for a slightly different role or in a pinch.
Not only will you be able to call them up on short notice if you need a qualified worker, but these job seekers have already expressed interest in your company, so you have a higher likelihood of them accepting the work.
Use a Niche Staffing Agency
Not every staffing agency will have a rolodex of qualified machine operators to call when you're tight for time, but a firm that specializes in placements within the manufacturing industry certainly might. Although some staffing agencies may not be able to help you out on short notice and might need more lead time to find the right candidates that you need, it's still worth a try.
Call up a niche agency in your city and ask for help. Its recruiters may have experienced and qualified machine operators in their candidate pool that would be ready and willing to come in for some work on short notice. Because recruiters' candidates are pre-screened and pre-approved, they can have these workers out to you in a jiffy.
Ask for Referrals
If you haven't yet created a database of potential candidates and your staffing agency doesn't have any machine operators to place in your company on short notice, then another option you can consider is asking your current employees for referrals. There is a high probability that your current operators and warehouse workers will have friends or acquaintances that are in the same line of work.
Additionally, you can send out a job announcement on your social media to see if any of your networks know of qualified machine operators. The announcement will be seen in real time, and anyone who is interested in the position or knows someone who might be can act quickly.
Don't Make Rash Decisions
When you're in a hurry, you can often make bad hiring decisions. So remember not to skimp on the essentials. Make sure the worker you're considering has the right qualifications and check references before bringing him in. This short screening process could save you a lot of grief later on.