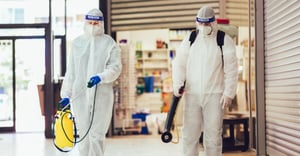 As most places in Ontario are moving to stage 3 now, many business owners are reopening. That's good news for job seekers, who may find there are new opportunities opening up almost daily.
If you've been laid off, or expect to head back to work later in the year, you might be interested in a temporary job. Students could also be looking for some work to tide them over until September.
Looking for a job? Let Liberty Staffing connect you to the jobs you want. Apply today!
No matter your situation, you can probably find an open position if you turn to one of these industries.
1. Food Packaging and Beverages are Running Full-Tilt
When people say "food," you probably think of grocery stores. While grocery stores were designated essential businesses and have been operating non-stop through COVID-19, there are plenty of other "behind the scenes" businesses that have also been clocking overtime to keep food on the shelves at local stores.
While demand isn't high for every type of food product right now, certain foods are experiencing a surge in popularity. People have been cooking at home more, and some have even been trying out new recipes, or learning to bake.
The food and beverage industry is looking for more hands to keep production high. As restaurants open up and crops begin to come in, there may be even more positions available in this industry. The meat-packing industry in particular has faced some challenges, and production will likely pick up, in order to meet any concerns about shortages.
2. Warehouse Logistics Need Helping Hands
Another industry going strong right now is shipping and logistics, particularly warehousing. Online shopping has resulted in an increase in orders going direct to warehouses. Pickers and Packers are needed in order to fill orders and get them into customers' hands.
Some stores have also relied on their warehousing and shipping logistics to keep products on the shelves. You can think of your local supermarket here. While other stores may just be reopening, they might have to send back last season's merchandise or quickly get new stock on the floor. Doing this relies on the ability of the warehouse and shipping services to meet needs.
3. Demand for Any Kind of Sanitation Service
The cleaning industry may not seem to be an "industry" all on its own, but it serves businesses across almost every sector. Even if a factory or office has its own cleaning staff, they might be looking to expand their workforce to meet higher sanitation standards and demand for cleaning.
This has led to an increased demand for skilled and experienced workers to take on janitorial roles and more.
Demand for these roles is likely to stay high for the foreseeable future, which makes this an excellent choice for anyone looking for work now, or in the next few months.
4. Education Will See Increased Demand
There's some thought that the education sector is likely going to rebound with temporary opportunities. There could be a couple of factors driving this trend. The first is that many schools and institutions have shifted to offering online content. They may be interested in hiring educators or other staff to develop content, or deliver it on a term-by-term basis.
The other factor is the uncertainty of the future. While many schools hope to be back in session in September, there could be additional lockdowns or stoppages, which means they might turn to a temporary workforce that provides more flexibility.
5. Customer Service Representatives for Remote Work
Customer Service Representatives are almost always in demand. The roles have shifted from in-person jobs in physical shops/offices to remote positions. Businesses have had to increase their available CSRs to support customers across the board during this time. As we move forward toward the "new normal", it's likely they'll still need some extra hands on deck.
If you're looking for a great temporary job, contact your nearest Liberty Staffing Services today!