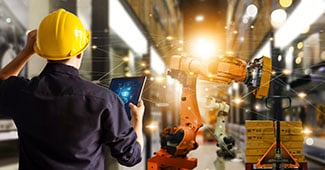 Workers in the manufacturing industry can be hesitant to embrace new technologies, including automation. While you may be excited to introduce a new tool that will increase productivity and profits, your employees may be worried.
At Liberty Staffing, we have helped countless manufacturing companies build exceptional teams of employees. Contact us today to learn how we can help you find the best workers for your manufacturing facility!
How can you help your team of employees adjust to automation in the manufacturing industry?
Reassure Your Workers That You Value Them and You Want Them to Stick Around
One of the first worries that workers have about automation is related to the question, "Will this new automated tool make me obsolete?" Your employees have likely heard some of the concerning statistics that suggest that Canadian manufacturing jobs may disappear as a result of automation.
These aren't unfounded concerns. The job landscape is certainly changing, and some workplace tasks will go away when machines can do those jobs more efficiently and safely.
The best thing you can do when introducing a new automated tool in your facility is to reassure your workers that you want them there. You can also reassure them that automation doesn't automatically mean that your staff will become obsolete.
There are predictions that workplace automation will eventually lead to significant job growth. In fact, it's predicted that there will be 58 million new net jobs by 2022 because of automation. During a time of worker shortages across the country in every industry, including manufacturing, managers aren't going to just get rid of hardworking team members because new automation is available.
Communicate to your workers that they are essential to your company's success, and they don't need to be afraid of change.
Provide Plenty of Training Opportunities
A different reason for workers to be anxious about new automation technologies is a concern about their lack of ability to operate the new tool.
Providing plenty of training opportunities will help! We recommend starting with a demo to help your team get excited about whatever you're introducing. Make this demo available several times so that everyone has a chance to view it, regardless of their work schedule.
Following the demo, give plenty of training opportunities to your workers to become familiar with the new tool or tools.
Help People Pivot to New Positions
Nimbleness is a great attribute to have if you work in manufacturing. When workers can easily adapt from one responsibility or job task to another, they can react to changes in the industry as needed.
You can support your workers in their development of this kind of nimbleness. You can do this by promoting classes, paying for continuing education or credentialing programs, and encouraging people not to get stuck in a rut.
Creating an atmosphere where your workers are always learning, growing, and adapting to new situations and challenges will be a huge help when it comes to introducing new automation technologies. Instead of reacting out of fear or anxiety, your team will be prepared for whatever changes may be coming down the line.
Make Sure You're Getting Ready for Changes
Managers can show leadership skills in this area by being prepared for the changes that come with automation.
For example, have you adjusted your hiring practices as your needs have changed? Because automation can change what kind of workers you need, you should make sure that your current hiring policies help you find the best possible workers.
Be sure to hire for soft skills; the skills that revolve around interacting with other people and adapting to new situations. Of course, you still need to hire people who are qualified to do general manufacturing tasks, including machining, but your team members also need to be able to apply these skills to problem-solving in a constantly changing industry.
Consider Outsourcing Your Hiring to a Professional Staffing Agency
One of the tools you have at your disposal, which you may not be utilizing yet, is a professional staffing agency.
A staffing agency will help you find workers who already excel at the skills you need in a workplace that embraces automation: critical thinkers, problem solvers, enthusiastic workers, and qualified manufacturing professionals.
If you're like most Canadian manufacturers and need new workers, a staffing agency takes away the stress of advertising jobs, finding workers, conducting interviews, and onboarding new team members.
Liberty Staffing is here to help. We help you quickly find workers you need to fill open positions and become as streamlined as possible. Contact us today with questions or to start filling those open positions!