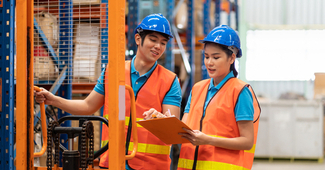 Is there anything better than feeling like you're part of a great team? It is such a positive, rewarding feeling to be on a team that works well together, accomplishes goals, and makes everyone feel included.
Workplaces don't always have the reputation of being a place where teams work well together. In fact, poor team dynamics are a major complaint that people have about work.
Liberty Staffing helps employers find great team members, and we help workers find the workplace that is right for them. Whether you're a worker or an employer, contact us today to find out how we can help!
Once you have a team assembled, how can you make sure that you have a better team environment at work? What are some strategies for building camaraderie and improving team relationships?
Here's a list of 5 great ways to improve your workplace's team environment!
1. Everyone is Important, So Prove It to Them
If you want a team to be successful, everyone on it has to feel valued and included. The problem is that these feelings don't always come naturally in the workplace.
Creating an inclusive team environment means communicating to each of your team members how glad you are that they are on board. There are countless ways to do this! For example, taking a few moments to thank someone or recognize them for an accomplishment doesn't cost you money or time, but it can make your employee feel valued and noticed. Publicly recognizing each employee for what they contribute to the team is another great option.
Whether your workers are online, in-person, or hybrid, there are management strategies available to you to create a sense of recognition and appreciation from leadership.
2. Create Opportunities for Professional Development
Workers who want to advance pretty much always benefit from professional development opportunities like workshops, conferences, additional training, and classes. These often cost money and have the potential to take up quite a bit of time.
When management affirms a worker's desire to improve their skills through these programs, it can be a big boost to the worker's connection to the workplace. Providing time off and even funding your team's professional development creates a sense of buy-in and inclusion for workers who are looking for more than just a clock in/clock out job.
3. Promote Communication Among Team Members
How well do your team members communicate? Do you have regularly scheduled meetings to "touch base" and connect in ways to keep everyone informed about the latest news, projects, and developments? Do you use workplace communication apps that make it easy for people to create group and one-on-one chat threads during the workday and beyond?
Encouraging good communication also means setting a good example. Being prompt in your replies to queries will encourage others to do the same. Some managers do a great job of promoting dialogue between employees by creating discussion prompts and hosting social events.
4. Incentivize Teamwork
When someone is intrinsically motivated, that means they do certain things because they are motivated by something inside of them. Extrinsic motivation, on the other hand, is what happens when you give someone a goal, a reward, or some other reason to achieve a goal or perform a task.
In the workplace, extrinsic motivation can go a long way! Not every worker is going to be intrinsically motivated to be a great team player, but you can encourage good team behavior by incentivizing it.
Reward the behaviors you are looking for with recognition, special benefits, perks, and more. Create goals for your team to work towards and celebrate when those goals are reached.
5. Create an Atmosphere of Respect
Nothing will ruin team dynamics faster than some people feeling disrespected.
This team-killing experience can come from colleagues or management, but when someone realizes that they are not being treated with respect and dignity, it leads to dissatisfaction and higher turnover.
If you want to retain your workers and maintain a sense of belonging, one of your biggest responsibilities is to create a workplace culture where everyone is treated with respect. This means listening to people's concerns, shutting down toxic behavior when it rears its head, and being a good role model for how to respectfully interact with people at all levels of the company.
Are You Looking for Great People to Join Your Team?
If so, Liberty Staffing can help! We connect great job seekers with great employers. Whether you're looking for office help, general labourers, factory floor workers, or countless other staff, we can find your next great teammate.
Check out our Client FAQ to learn more about the services we offer to employers. Then contact us to start connecting with great new staff today!