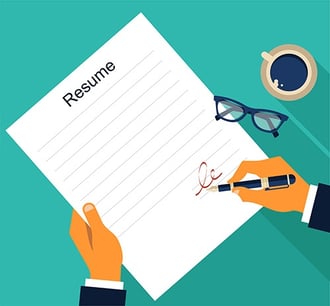 Your resume will be the first—and possibly only—impression you get to make on potential employers. Don't let it be the reason you aren't called in for an interview. A hiring manager can choose to dismiss you as a candidate in just a few short seconds if you have a poor resume. If you want to make a good first impression in order to have a chance at great job opportunities, you might need to improve your resume.
Luckily, it doesn't take much time or effort to improve your resume — just use these seven easy steps.
Use Industry-Specific Keywords
There are buzzwords that hiring managers will want to see in your resume — industry-specific keywords that will attract their eye and keep them reading instead of quickly pressing delete. An easy way to improve your resume is to add keywords used in the job advertisement you're applying to. These keywords will stand out — you'll seem instantly more qualified for the job.
Alter Your Resume for Every Position
You can't use the same resume for each position that you apply to. You need to customize it for each application. This has a lot to do with our first tip of using relevant keywords. Each hiring manager is going to be looking for specific and unique skills and abilities, so make sure that you're altering your resume appropriately to match every new position you apply to.
Hire a Proofreader
Although spell check can catch many embarrassing typos, it can still let you down. And we're sure you know that spelling and grammar errors can get your resume thrown in the trash quicker than it took you to press the send button. An error as small as using the wrong verb tense can have a big impact. Hire a professional proofreader to look over your resume to ensure that it's spotless. At the very least, have a friend look it over.
Improve Order
You can easily improve your resume by simply reorganizing it. The most important information you want to showcase should be displayed first—you don't want the hiring manager to stop reading before he gets to the impressive stuff.
Improve Readability
The information you present on your resume should be easily readable. Avoid using jargon and abbreviations that hiring managers might not by familiar with, use a standard font, format the document consistently, make use of appropriate spacing, make headings and subheadings clear, and avoid repetition. The more difficult it is for a hiring manager to read your resume, the quicker he'll lose interest in you as a candidate.
Quantify Your Accomplishments
Your career accomplishments will be your biggest seller, so make sure you present them in a way that impresses. Use numbers, percentages, and dollars rather than just listing off duties and responsibilities. For example, instead of just saying you managed a team of sales people, specify how many people were under you. Instead of saying you were responsible for bringing in new clients, specify how many you brought in, spanning which time, and how much money these new clients equated to.
The Right Length
A resume that's half a page long isn't going to showcase your skills, experience, or education very effectively. Alternatively, a resume that's four pages long won't be read to completion. It's probably going to be full of repetition and irrelevant information. If you have a long work history and have worked at many different companies in varied roles, your resume should be two pages in length. If you're just starting out, you can write a one-page resume—but no shorter.