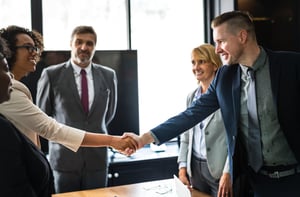 Whether you're headed into an interview, or you've landed the job and you are going to work for your first day, there are a number of things that you can to do make a good first impression on an employer. After all, an interview can make or break your chances of being hired, so it's best to put your first foot forward. You'll also need to leave a positive impression on your first day, and first week of work.
At Liberty Staffing, we want you to succeed in your professional life. Here are some tips to help make a good first impression with your employer.
Social Media
Believe it or not, but most employers search your name online on social media when they're deciding who to interview for their open position. They will check your profile on LinkedIn for sure, and then see if you're active on any other social media platforms. If you don't already have a LinkedIn account, you should. There are many great benefits to creating a LinkedIn account.
It's important that your social media accounts are clear of any information that may deter an employer to hire you. If you're worried about employers checking up on your social media, you can always set your profile to private.
Be Punctual
There's nothing worse than being late to an interview, or being late on your first day. An employer may think that you are unorganized, not responsible, and/or not interested in the position at hand.
Make sure you prepared and ready to go long before your interview, or shift time. Making a good first impression is everything, so be sure to arrive on time.
Have a Positive Attitude
Nobody likes negativity. You don't want to appear tired, unmotivated, or negative during the interview process. And it also won't look good to constantly complain at your new job, especially since you've just started the position. Employers will want to hire someone who is energetic, and positive. They are looking for someone who is excited about the job, who will take initiative, and succeed in the position.
Need more tips? Contact Liberty Staffing today! We connect great people with great jobs.