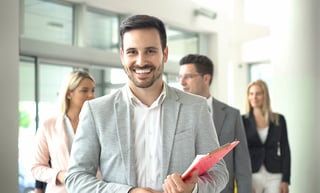 The tourism industry hires in the summer. The retail business adds extra hands in the fall, around the holiday season. No matter what industry you're in, you likely have a "busy season" at some point.
In order to make the most of the uptick in business and production, you probably hire seasonal employees. These employees work for you on a short term, temporary basis. Maybe it's a few weeks or maybe it's a few months.
How can you get the most out of these seasonal employees?
Train Them
A great employee training program can go a long way. If you already have one in place, be sure it covers your seasonal employees as well.
Although your seasonal employees will be skilled and experienced, they still require training if you want them to hit the ground running. They need to learn your processes, procedures, and programs.
What's more, training integrates them into the company culture. It also prevents mistakes, since it gives new employees a chance to learn the ins and outs of this particular role.
Projects and Roles
Perhaps you hired a seasonal employee to take on one role in your company. Maybe you hired them to work on a specific project.
While project-based employees should be focused on their project so long as it's ongoing, you may also want to consider seasonal employees for different roles. It could be useful for you to provide cross-training in different roles. It can help you cover unforeseen absences and illnesses.
It's also useful if your seasonal hire has a set timeline. If a project wraps up early or you need extra hands for a job they weren't hired for, you and the employee both benefit if they can help in another capacity.
Pre-Screen for Cultural Fit
Before hiring seasonal employees, you should be pre-screening them for cultural fit with your company. The last thing you need during the busy season is employee turnover.
Pre-screening for cultural fit makes it less likely you'll need to go back to the hiring process. A good cultural fit is also going to be more productive for you, helping you get the most out of your seasonal employees.
Keep an Open Mind
You may have hired these workers for seasonal positions or a particular project. That doesn't necessarily mean you need to keep them in those roles until their terms are up. If a position is made available, encourage them to apply. Such a strategy helps you employ the best people.
Once the seasonal employment term has ended, keep an open mind to rehiring good employees for other roles in your company. Don't let good talent slip through your fingers.
Using these tips, you can make the most of your seasonal employees.