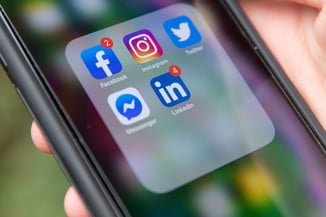 Experts predict that hiring is going to bounce back sooner rather than later. If you're looking for work or you're thinking about switching your job, now is a good time to lay the groundwork. That way, when hiring does pick up, you'll be ready to impress potential employers and land the job you really want.
Looking for a job? Let Liberty Staffing connect you to the jobs you want. Apply today!
These days, job applicants need an outstanding online presence to really get noticed. What steps should you take now to make sure you're ready to wow your interviewers? We've put together these tips to get you started.
Clean Up Your Social Media
Your first step in creating a stellar online presence is to clean up your social media. Even if you don't list your Facebook, LinkedIn, or Twitter handle on your resume, there's a good chance any prospective employer will still find you.
You want to put your best foot forward, so think about what you've posted to these accounts. Are there posts you'd be embarrassed about now? Is there material that might hurt your reputation if a potential employer looked at it?
You may want to remove these posts, or at least turn them private. You can turn your entire account private as well, which blocks potential employers from looking at what you're posting.
You still want to have a social media presence, especially if you happen to be applying for any position that requires you to have social media skills. You might want to create a secondary "professional" account and list that on your resume.
Be Active on Social Media
Your next step in sprucing up your online presence is to post regularly to your social media accounts. This is particularly important for LinkedIn, but it also matters for Facebook and Twitter. As much as employers may not want to see certain kinds of material, they also want to see that you're at least using social media.
In addition to posting regularly, you need to connect with people. LinkedIn is a great place to network. Employers will be happy to see that you've connected with your peers, or that you're following interesting personalities in the industry. They may want to determine that you're learning new skills or keeping up to date on all the latest.
Keep Your Profiles Up to Date
Make sure everything on your social media profiles is up to date. LinkedIn is particularly important here, since it often showcases your work history and skills. Don't forget to get recommendations from coworkers, supervisors, and colleagues.
You'll also want to clean up old or outdated information. Use a recent picture, and be sure to craft a unique headline and use a custom URL. You'll want to follow other social media best practices to make yourself more discoverable and appealing to potential employers.
Start or Update a Personal Website
Another good option for job seekers is to start or update their own professional website. This doesn't need to be anything too fancy, but it's an excellent way to showcase your resume.
You may be able to include multimedia, such as links to projects, videos, or images. This can make your site and you even more appealing. Be sure that the information here is up-to-date.
You'll also want to follow best practices for legibility. Don't forget SEO best practices either, as these tactics can make you easier to find.
If you work in a creative field, then having a portfolio or samples of your work available on your website is an excellent idea. Be sure to keep this section up to date as well.
Get a Helping Hand with the Job Search
Sprucing up your online presence is a great way to get ready for the job search. Once you're ready to get started, make it even easier to look for your next job by getting in touch with Liberty Staffing! Our experience and expertise will help you find the right job even faster.