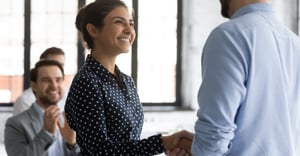 Whether your work contract finished, a holiday position ended, or you've been out of the workforce for a while, you probably kicked off the new year with a job search. You might be feeling some pressure to land a job, especially if you've been out of work and the holiday credit card bills are due.
If this sounds familiar, then you'll want to check out these seven ways to find work quickly in 2021. These tips, and applying with Liberty Staffing Services, can help you land a great role fast.
1. Check Out In-Demand Jobs
Your first step should be to research which jobs are in demand right now. What roles are employers in your area hiring for? Are there any high-growth industries looking for people with your skill set?
There will likely be a few different career paths available. Some positions, like Warehouse Workers or Cleaners, may be in-demand roles that will help see you through right now. Other roles, like a virtual Administrative Assistant, might be more permanent.
2. Be Open Minded about Opportunities and Options
Next, try to keep an open mind about your options. You might not see some jobs as your lifelong career, but it could be a job that you can get right now.
Don't be afraid to consider temporary positions, as well as jobs you haven't considered before. Every job is an opportunity to learn new skills and expertise. Taking a temporary job could also help you avoid a gap in your work experience. And finally, you never know where an opportunity could lead.
By keeping an open mind, you'll find more job opportunities (and apply to more jobs). That can help make your job search more successful.
3. Ask Your Network
If you've been networking, then you probably have plenty of contacts in several industries. Reach out and see if they're hiring. They may not be, but they might point you in the direction of someone who is.
Someone in your network may link you up with an excellent opportunity, even if it isn't your dream job.
4. Take Your Job Search Digital
You'll want to make sure you've taken your job search online. More recruiters are hiring for remote positions, and that also means they're doing recruitment remotely. You may find positions posted on LinkedIn, Twitter, or Facebook. Don't forget about job boards. There are also industry-specific and profession-specific websites to look at, which can help you discover more positions you're qualified for.
5. Go the Extra Mile
There's something to be said for getting creative this year. The job market is tight right now because of COVID lockdowns. So if you really want a job, you need to stand out.
Experts suggest "going the extra mile" when you complete a virtual interview. Always follow up with potential employers, and send them a thank you email. If you made a great connection with your interviewer, mention it to them. For special situations, consider sending a gift card. A little can go a long way!
6. Be Persistent
Finally, don't give up. These tips are meant to help you find a job in short order, but in a tight market, it could still take some time to land the right job for you. Apply often and use these strategies, and you should have a new job sooner than you know.
7. Work with an Agency
Finally, to shorten the path to a great new job in 2021, work with an agency like Liberty Staffing Services. We have connections with reputable local employers, and we know who is hiring. We can help you match your skills to different positions and career paths. In short, we'll be able to point you in the direction of open positions that suit your skills.
Contact us today to get started!