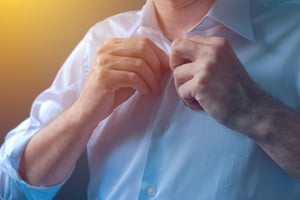 You've just received response from you job application, and the hiring manager wants to meet you for an interview. Congratulations! There's one problem though...The company needs to fill the position as soon as possible, so your interview is tomorrow. That leaves you with just a few hours to prepare.
Don't panic. Liberty Staffing Services would like to provide you with some tips to help you prepare for a job interview that's scheduled on short notice. After all, an interview can make or break your chances of landing the job.
There are many common interview mistakes that you'll want to steer clear of. Being unprepared is one mistake that is avoidable, even when you have a tight deadline to prepare. Here's how you can prepare for a job interview on short notice.
Get Your Attire Ready
A quick way to get one step ahead of the game is to prepare your clothing the day before your scheduled interview. Make sure to set aside professional attire for the day. Iron work wrinkles in the attire prior to. It's imperative that you look professional the day of your job interview.
Not sure whether to dress casual or business professional? Get a feel for the company's culture by searching through their website, social media, or simply ask your interviewer beforehand. Usually an interviewer will let you know if the interview will be casual or not. If you are unsure, then it's best to dress professionally.
Review the Job Description and Your Resume
Did you apply for this job opportunity months ago? Even if you've applied recently for the position, it's best to find the job description and review it before you head into the interview. Make connections with the requirements needed to do the job successfully, and what you can bring to the position.
What do you have to offer the company? It's also a good idea to review your resume prior to your interview. Look over your past experience (particularly the number of months/years you worked at which company), and your skills (like the software that you are proficient with).
Being knowledgeable of both the job that you're interviewing for, and your previous experience/skills, will give you a leg up.
Search Through the Company Website
Take some time to research the company before you head into the interview. Look through the company website. Get a feel for the company culture, and what the company's main objectives are. If the business involves selling a product or service, familiarize yourself with the item or offers.
Go to Bed Early
You need to be mentally prepared for your interview, to answer the employer's questions to the best of your ability. To do this, make sure to go to bed early the day before your interview, and get lots of rest. There's nothing worse than going preforming an interview when you're tired and stressed. You want show the best version of yourself during the interview process. If not, the employer may select another candidate for the position.
We wish you the best of luck in your interview! Contact us afterwards and let us know how it went.