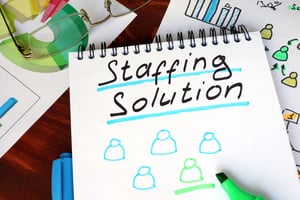 With just a few weeks left in the year, the holiday rush will soon be upon many businesses. This is the busiest time of year for many industries, with everything from manufacturing to retail noticing upticks in production and sales. As a result, many employers need additional workers to help them meet their production quotas or provide proper customer support.
If you hadn't already hired with an eye to the busy holiday season, you might get caught up in what's known as the holiday staffing rush. About this time each year, employers realize they aren't going to be able to keep up with demand. They hurriedly bring on staff.
You'll likely find yourself faced with stiff competition, especially when the job market is as favourable to candidates as it is right now. Hiring can be a long process to start, so how do you now speed up the process and simultaneously ensure you're getting the right people?
These tips will help you prepare for the busy holiday hiring season and meet all demands head on.
Work With an Agency for Your Holiday Staffing Needs
The best advice anyone can give for employers preparing for the holiday staffing rush is to work with a staffing firm like Liberty Staffing.
Working with a staffing agency is often the fastest way to hire the people you need, both in terms of numbers and talent. The agency will work with you to meet your needs, finding the people with the skills you require and helping you make the hiring process that much quicker and efficient.
Assess Your Needs
Before you begin hiring holiday staff, sit down and think about what you need for the business. How many people will you need to bring on, and in what roles? What kind of skills and training do you want them to have?
You should also think about this in terms of the financial picture. Does it make more sense to bring people on as temporary workers than hiring part time permanent staff?
By accurately assessing your needs before you begin, you can leap into action and make hiring for holiday staffing much easier.
Review Your Hiring Process
Before the rush hits, take a moment to evaluate your hiring process. In reality, the holiday season only lasts a few weeks. Can you hire people quickly? Will you need to spend weeks training them?
A check-up on the hiring process will allow you to move faster than ever before. A speedy hiring process is the key to getting the right people on the floor when you need them. Evaluating this process will also allow you to find the right people for your holiday staffing needs. This can reduce the time you need to spend on training.
Reconnect With Summer Students and Other Temporary Workers
If you've brought workers in on contract before, now is a good time to reconnect with them. Think about the students you employed over the summer. They're already trained, and chances are some of them are looking for temporary work around the holidays. Other temporary workers you've hired in the past may be in a similar situation.
The holiday staffing rush can put a strain on your hiring process. Alongside the demands of this busy time of year, it can also cause additional strain on everyone in your organization. By preparing now, you'll be able to meet the challenges.