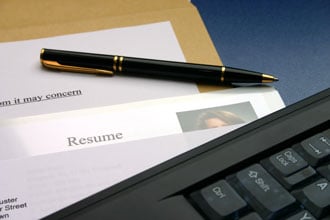 Employers can get hundreds of applications for an open position, and when you're looking for a job, it's essential to find a way to stand out from all the other applicants. If you stand out to an employer, you could be called in for an interview, or even get hired for your dream job, but if you don't stand out, your application could be rejected.
There's no need to turn to gimmicks to get an employer's attention. To stand out, you just need to refine your application materials and take advantage of your network.
Customize Your Cover Letter
Your cover letter is your first opportunity to stand out to an employer, and sending a generic cover letter is a missed opportunity. If you're sending the same cover letter to every employer and just changing small details like the job title or the employer name, you're not going to stand out from other applicants who are writing similar letters.
Instead of using the same template for every job, start from scratch with each application. In your letter, let the employer know why you want the job. Explain how your skills, training, and past work experience would make you a good fit for the job. You can use the job description from the ad to help guide your letter. For example, if the description asks for a highly-organized person, you could tell an anecdote that shows off your organizational skills.
You may be tempted to write a formal letter, but cover letters don't need to be boring, stuffy documents. Your cover letter is an opportunity to show the employer your personality, so try to write the way you talk. Letting your personality shine through your customized letter helps you stand out from other applicants.
Detail Your Achievements
Is your resume just a list of your past job descriptions? Many people write their resumes that way, but it doesn't help you stand out from the crowd. Employers will understand the types of tasks that are associated with job titles, so listing your job description isn't telling them anything new about your candidacy. Other applicants will have similar work histories, and you need to let employers know why you'd be the best at the job.
Before you start writing your resume, think about things you achieved in your past jobs.Try to be as specific as possible, since your achievements are your biggest seller. Then, under each past position on your resume, list your relevant achievements instead of a list of duties.
Achievements can be as simple as being recognized by your supervisor or frequently complimented by customers. Achievements can also be number-based, like meeting goals for call volume, sales, or other metrics. Be careful not to stretch the truth when you're detailing your achievements; this will attract the wrong kind of attention from employers.
Get a Referral
Getting referred for a position helps your application stand out to an employer, and your chances of getting an interview are higher when you've been referred. This is because referral hires have been shown to be better employees in the long term, so employers will be more interested in talking to you. The best referrals are from employees of the company, but other people who are connected to the company, like vendors or clients, can also refer applicants.
Check your network for people who are connected to your target company. You can use sites like LinkedIn or Facebook to see if any of your old classmates, coworkers, or networking contacts could be able to help you. If you find a contact who could refer you, ask them if they're comfortable referring you to the company. If your contact agrees to refer you, make sure to mention the referral in your cover letter.