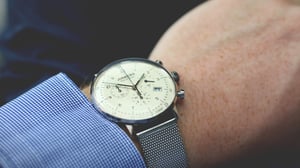 On Sunday November 3, 2019 at 2 AM, daylight saving time will end. This means that clocks will fall back 1 hour.
Liberty Staffing Services is an independent staffing agency with 9 branch locations across Ontario. First established in 1999, we just celebrated 20 years of business. We offer jobs to candidates, and flexible staffing solutions to businesses in the area. Liberty Staffing connects great people with great jobs!
If you're an employee currently out working for us, don't forget to set your clocks back 1 hour this weekend! After all, you don't want to be late for work. Being late is not good, and you should try to avoid it as much as possible. Your employer may think that you do not care about your job, or working at the company. What's worse is when you're late and you hold up other people, like your coworkers.
Looking for work? Come in and apply at a Liberty Staffing branch nearest you. Whether you are looking for a temporary, temporary to permanent, or permanent position, we can help. Liberty Staffing takes the time to get to know you, so that we can find the perfect job for you!
Fall is a busy time of year for us. We have lots of great opportunities currently available. Get in touch with Liberty Staffing Services today!