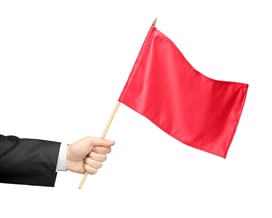 Are you looking for work in Ontario? While there may be many great jobs advertised on various job boards online, unfortunately some may not be real opportunities, and some may even be scams. After all, job scams are currently on the rise in Canada.
Liberty Staffing Services would like to provide you with some red flags that you should watch out for as a job seeker looking for employment. We would hate for you to be swindled or hurt in any way by fake jobs or job scams.
If you're a job seeker looking for work, please be cautious, and look out for the following red flags.
Check Out the Email Address the Employer Provides
At the end of a job posting, where it gives you instructions on how to apply to the position, what email address does the employer provide? Watch out for jobs that provide generic email addresses which have nothing to do with the company (for example, Gmail or Outlook accounts, etc.). If the job description prompts you to apply to an @gmail.com email address, chances are that the job isn't real.
At Liberty Staffing Services, all of our job opportunities have email addresses specifically associated to our business. For example, our Cambridge office's email address is cambridgerecruiting@libertystaffing.ca. Notice how our email address end in @libertystaffing.ca? That means that we are a real company, posting real jobs.
Watch Out for Jobs Claiming to Pay You in Cryptocurrency
Cryptocurrency scams offering fake jobs are on the rise. Have you recently gotten a job offer to work freelance to boost the profile of an app and be paid with cryptocurrency? Or perhaps you were offered a job opportunity advertising product, or promoting a video, where the scammer tells you that they pay in cryptocurrency. Chances are very high that you will not see any sort of payment for these jobs, because they are fake/fraudulent.
Be wary of any job opportunity that comes your way (whether through email, text message, or automated phone call) which offers to pay you in cryptocurrency. These days, cryptocurrency is an increasingly common feature in fraud. It's best to not respond (or even open/review) these prompts because they are scams.
Red Flags in Staffing Agencies
If you come across a staffing agency/employment agency which states that you have to pay to use their services as a job seeker, this is a big red flag. What that means is that the staffing agency most likely does not have a license in Ontario, and is paying their employees under the table, without the need for Social Insurance Numbers from candidates. Working without providing your employer with a Social Insurance Number, where you are paid in cash, is illegal in Ontario.
Staffing agencies which offer to pay you in cash, who do not have licenses, can be very dangerous. These businesses are not reputable. If you sign up with an agency like this, there is a strong chance that you will not be paid your full working hours (if you're paid at all). Also, if you are physically hurt on the job, you are not protected and cannot report the incident to gain any sort of legal physical or financial support.
About Liberty Staffing Services Inc.
Liberty Staffing Services is one of the most reputable staffing agencies in Ontario! First established in 1999, we have been in business for 24 years! We offer general labour, warehouse, industrial, factory, and office jobs in temporary, temporary to permanent, and permanent opportunities. We have jobs available in Cambridge, Guelph, Kitchener/Waterloo, London, Stratford, and Woodstock.
We truly care about our employees, and it shows. Just check out our awesome Google reviews!
Liberty Staffing abides by all Ontario laws and regulations. There is a new licensing process in Ontario starting in September 2023, and we are all set up for this and will start this at the end of the month.
Apply With Liberty Staffing Services Today!
We're hiring! Check out our job board. Start our online application process and then contact your nearest Liberty Staffing branch location for more information on the jobs that we currently have available.
Liberty Staffing Services connects great people with great jobs!