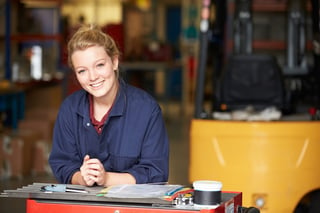 Ontario's unemployment rate has reached the lowest it's ever been in recent years, according to this CBC News article. In the past year, Ontario has gained an increase of 96, 800 full time jobs. What many people don't realize is that the full time positions currently available in Ontario may be temporary opportunities. Meaning, you work full time hours but the position is not permanent.
Often the word "temporary" scares candidates, but there are many great benefits of temporary employment. If you are looking for work, here's why you should consider taking on a temporary job.
Could be Full Time Work
Don't let the word "temporary" fool you. The word can be misleading. "Temporary" could mean anything from a one day assignment to an ongoing opportunity which lasts for months. You can also work full time hours at a temporary position.
Flexible Hours to Fit Your Schedule
Temporary jobs could have flexible hours, which means that you can obtain employment which fits your schedule. Many candidates prefer temporary work, particularly for those returning to the workforce, or professionals who are changing careers.
Gain Practical Work Experience
Another great thing about temporary work is that you can gain practical work experience in a variety of fields. This additional work experience is perfect to add to your resume.
Try Out Different Jobs
If you are unsure what your dream career would be, the best way to find out is to try out different jobs through temporary positions. This way you can see what you do and don't like with certain tasks related to specific positions. Not only that, but you will gain insight into the type of business and company that you'd like to work for.
Could Lead to Permanent Employment
Liberty Staffing Services offers temporary, temporary to permanent, and permanent job opportunities. Many positions that we offer are temporary to permanent opportunities, which means that you can be hired on directly with a company after completing a certain number of hours.
These are just a few great reasons to try out a temporary position. If you're ready to start your career with a temporary position, contact Liberty Staffing today!