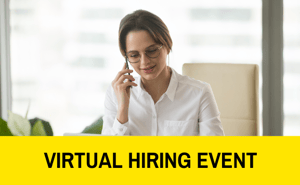 Are you looking for work in Brampton, Cambridge, Guelph, Kitchener, London, Stratford, or Woodstock Ontario? Liberty Staffing Services is hiring! We have lots of great jobs available.
We're having another Virtual Hiring Event! Join us remotely on Wednesday November 4, 2020. On this day, we'll be conducting video/phone interviews with job seekers.
Looking for a job? Let Liberty Staffing connect you to the jobs you want. Apply today!
Here's more information about our Virtual Hiring Event.

We're Hiring:
- General Labour
- Warehouse
- Office
- Full time positions

Join Us Remotely for Our Virtual Hiring Event!

When:
Wednesday November 4, 2020
8am - 5pm

Where:
This is a virtual/remote event. We are holding video or phone interviews, no in-person interviews (in order to ensure everyone's safety during the COVID-19 pandemic).

Book Your Interview Appointment Today!
Call your nearest Liberty Staffing branch location today to schedule your interview appointment on Wednesday November 4!

Brampton: (905) 799-8586
Cambridge: (519) 624-2877
Guelph: (519) 823-9697
Kitchener: (519) 742-2011
London: (519) 453-9021
Stratford: (519) 275-2742
Woodstock: (519) 539-7961
If you have any questions, please contact us. Liberty Staffing Services connects great people with great jobs!