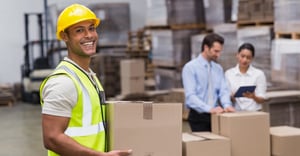 As lockdown is slowly lifted, many employers are ramping up their operations. That means they need people to help them meet demand and get back up to speed.
If you're looking for work, you may wonder what kinds of jobs are out there for you now. The warehouse industry is rebounding quickly. You might want to consider any one of these in-demand warehouse jobs.
Shipping/Receiving Associates
Shipping/receiving has been going on nonstop throughout the last few months during COVID, and it's going to continue as the government lifts lockdowns, and the economy re-opens.
Why is shipping/receiving so essential? Shippers and Receivers are the key people who keep shipments moving in and out of warehouses. The people in these roles make sure products are loaded up and unloaded at the destination. They're important in the supply chain that keeps store shelves stocked.
With increased online ordering, Shippers and Receivers have been just as busy as before. They're essential in getting those orders off the dock and into the customers' hands. The items being requested might have changed, but there's still a need for talented people in these roles. Key skills include great communication, an eye for detail, and good organization, especially as you could be responsible for invoices and ensuring the shipments match every order.
Shippers and Receivers may also deal with freight companies, making arrangements for shipments to go out or arranging drop-offs. Attention to detail is just as important in this task. A good sense of time management and punctuality will help them with even the most last-minute requests.
Pickers and Packers
Two other key roles in any warehouse operation are Pickers and Packers. Some warehouses combine these roles, but their functions remain the same.
Pickers receive customer orders and then fulfill them. They find where the items are located in the warehouse, then retrieve them from the shelf.
Packagers put orders together and prepare them to leave the warehouse. In some cases, Pickers also do the packaging portion, which can streamline orders.
Both Pickers and Packers need an eye for detail, as well as good communication skills. Packers in particular will must be organized and detail-oriented, as they'll often check over the order for accuracy. They double-check the order against the request, to make sure they're packing up all the right products and in the right quantities. They may also need to check shipping addresses.
Forklift Operators
Forklifts are a common sight in many warehouses, especially as they help move shipments to and from the dock. They can also assist Pickers and Packers in collecting the items they require. Forklift Operators are often needed to assist with organizing and storing inventory in the warehouse, as well as getting it ready to move.
Forklift Operators require special training and a license. Due to these prerequisites, Forklift Operators are often in demand, since not everyone has the right skill set. Experienced drivers can command a higher rate than those who are brand new.
If you're thinking about upgrading your skills to better your chances, consider forklift training.
Janitorial Staff and Cleaners
In the current environment, there's been a renewed focus on sanitization and cleaning in most workplaces, and warehouses are no exception. Many warehouse operations have introduced new procedures, and have increased their cleaning efforts.
As a result, there are quite a few warehouses hiring additional cleaning staff. They need a number of Janitors and Cleaners to help them with extra cleaning, and to conduct deeper sanitization.
Cleaning teams have become even more essential during COVID, so keep an eye out for these positions.
If you're looking for a new job, whether it's in a warehouse or not, get in touch with Liberty Staffing Services. We're here and ready to help you find a great warehouse role!