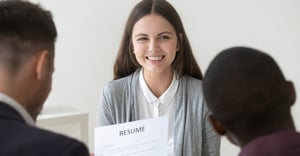 Are you a student looking to take on a summer job for the first time this year? You're probably both excited and a bit nervous, especially in the current job environment. There are going to be jobs, many of them well-suited for students like you. The current climate is shifting rapidly, but businesses will keep operating all the same.
Looking for a job? Let Liberty Staffing connect you to the jobs you want. Apply today!
These tips can help you as you begin to look for your first summer job.
1. Prepare a Resume
The first thing you'll need to do is prepare a resume. If this is your first summer job, you may not have a lot of previous experience. That's alright.
Be sure to list volunteer experience, as well as your educational achievements. You could list some of the odd jobs you've had, such as babysitting for a neighbour or mowing lawns. These experiences highlight your skills, as well as responsibility, reliability, and more.
Ask someone else to proofread your resume for any spelling mistakes. Use a clean, legible format too.
2. Look at Available Jobs
Next, take a look at some of the jobs that are available right now. This summer is likely to see fewer openings for jobs like baristas and wait staff, but you may find unexpected opportunities if you look beyond the expected.
Warehouses, for example, are in need of staff for almost every position right now. More businesses have shifted to online ordering, which has meant more orders going out directly from the warehouse instead of store shelves. Health care, grocery stores, and other businesses are in need of staff too.
3. Think about Your Future Ambitions
There's nothing saying your first summer job needs to reflect your future career, but it could help you begin to build your resume. If you're in school for nursing or pharmaceuticals right now, then you may be able to find a job that will give you experience in this field.
All jobs let you build essential and necessary skills. Don't be discouraged from taking a job because you think it won't provide relevant experience for your future career ambitions.
4. Prepare for Interviews Ahead of Time
Another great step to take as you look for summer employment is to practice your interview skills. If this is one of your first jobs, then you'll likely need to practice a bit.
Ask a friend or family member to help. You can also practice in the mirror. Look online for common interview questions, then think about how you'd answer them.
5. Work with a Staffing Agency
You can also consider working with a staffing agency (like Liberty Staffing) as you seek out your first summer job. Our expert team will keep you updated on recent job postings, as well as help you discover new opportunities that suit you.
We make the process of finding and applying for jobs simpler.
6. Customize Your Applications
When you apply to any summer position, you need to customize your application. Be sure to include the position you're applying for. Take a look at the job posting and match your skills to the ones outlined in the post. Your application should mirror the job posting.
Customized applications showcase how you fit with that specific role or company. They also demonstrate that you took the time and effort to customize your submission, instead of using the same answers every time.
7. Stay Positive
Finding a job often takes time and effort. It's likely that there will be lots of competition for jobs this summer, so it may take you some extra time to find the perfect position. Staying positive can keep you motivated and excited about new opportunities that arrive on your horizon.
Get in touch with Liberty Staffing Services today and discover the jobs that are available right now. One of them could be your first summer job!