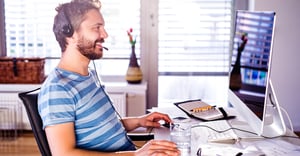 As most of the world waits for lockdowns to lift and pandemic fears to begin fading, business owners like you are trying to make sense of a world that seems to have been turned upside down overnight. Essential businesses have vastly changed how they operate. Some companies have switched to manufacturing products that help combat the spread of COVID-19 (such as soaps, hand sanitizers, and/or face masks). Many businesses have leapt into a virtual world of remote work and online sales.
Some of the lessons from the pandemic are very clear, such as the need for robust disaster planning. Other lessons will become clearer as the world moves into the post-COVID market.
Download our whitepaper to see how we solve our clients' evolving staffing issues
Some of those lessons clearly point to the value of a flexible workforce for businesses of any size.
Flexible Workforces Help Businesses Scale Down
The immediate reality of a global pandemic was that many businesses had to limit or even shut down operations altogether.
Businesses with flexible workforces were in a much better position to do this. Contract workers and temporary employees who were already at the end of their agreements could be released by employers without any further concern. Some temporary work arrangements provide flexibility that allows employers to end the contract if there's no longer a need for the employee. Others may include clauses that help employers reduce their staff quickly in times of emergency.
Employers are also under no obligation to continue to provide access to benefits or paid leaves. Amid concerns about the legality of layoffs of permanent staff by some companies, a flexible workforce allows you to avoid these sorts of missteps.
In short, a flexible workforce allows employers to act quickly in times of emergency. This is important to keep in mind, as some experts predict that there will be additional waves of COVID-19 infections in the coming months. These recurrent waves could result in more shutdowns, meaning employers must be ready.
A Flexible Workforce Helps Businesses Start up Again
Many business owners have been looking for ways to keep operating. As the list of essential businesses and services that can be offered has been pared back, some businesses have looked to pivot. For some, this has meant closing physical stores, shifting to online sales, and allowing for curbside pick-up or delivery only. For others, this has meant shifting away from the production of one product, like hockey masks, to items in need, such as personal protective equipment.
In either case, business owners need to know they can rely on a flexible workforce. Delivery drivers or order pickers could be in demand. Some companies have had to hire on team members with specific skills, while others are looking to quickly expand their team to get operations up to speed and produce much-needed items.
A flexible workforce can meet these requirements, often with more ease than the permanent workforce. Many businesses know their current operating model is temporary, so it wouldn't make sense to hire on a fleet of delivery drivers as permanent, full time workers.
The flexible workforce can be hired back, scaled up, and rolled out based on business needs. As lockdowns lift and business owners prepare to operate in the post-COVID world, this flexibility will provide great advantages.
Weathering the Economic Storm
The other reason a flexible workforce has been so important is that it allows businesses to better weather the economic impacts of emergencies. Businesses with large permanent workforces may find themselves at a loss when they have to re-open. Under emergency laws, permanent workers have to have job-protected, unpaid leaves. If you don't need to hire everyone back, you might find it quite difficult to determine who to bring back.
If you're ready to build a more flexible workforce for the post-COVID world, get in touch with Liberty Staffing Services. We'll work with you to create a workforce that can help you negotiate even the most uncertain market.