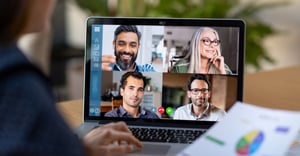 The recent global COVID-19 pandemic has caused remote work to leap to the top of priority initiatives for many employers. If your business is considered essential, you might still be considering moving the entirety/some of your business remotely for the safety of your employees. You might be wondering how to adapt your business for remote work, and quickly.
Download our whitepaper to see how we solve our clients' evolving staffing issues
Whether your company is new to navigating the challenges of remote work, or whether you've been considering the transition for some time, this guide will help you make the switch successfully.
Decide Which Jobs Can be Done Remotely
The first thing any business owner should do is assess which jobs can be completed remotely. Some jobs are obvious. Your marketing team and sales team could likely work offsite. The same may be true of your accounting team, provided they have access to your business's server.
Other jobs are less adaptable. It would be very difficult for someone to pick and pack warehouse orders from home, for example. Other jobs might require access to machinery that only exists at your factory location.
Once you've identified which jobs are able to be handled from a distance, you can begin preparing to move those roles offsite.
Provide the Right Tools for Remote Work
The next step is to ensure the employees who will be working remotely can complete their jobs from an offsite location.
What equipment is needed? Many will require up-to-date computer equipment, or a smartphone.
They'll also need access to certain programs. Those might include programs such as QuickBooks for your accounting team, or Microsoft Word for your marketing team. They'll need access to their email, which you may have to provide remotely. Ask the IT team how to configure remote access to your company's mail server. If you use something like GSuite, contact your service provider and have them walk you through connecting.
You'll want to think about additional tools to help your team operate remotely. This might include a video conferencing tool, like Zoom or Hangouts. A messaging app like Slack may also be an option for helping the team stay connected, even while they're working in separate places.
Make sure the team has access to applications such as cloud documents and file-sharing services as well.
You might also want to consider helping your team with essentials, such as a phone plan, or their Internet connection. If you already provide your sales team with a work phone, for example, they may have a robust calling package. If they usually use the office phone, then they may not have long distance, or enough minutes in their plan.
Create Remote Work Policies
Now that you've offered your remote team all the tools they need to keep the business running during this time, the next question is how they conduct themselves while they're not at the office.
While studies show many people are productive when working remotely, having the right policies can keep your team engaged, productive, and confident as they make the switch. If someone is working from home, they might encounter unexpected distractions, such as their kids or pets.
Good policies could help them lay ground rules for their remote work experience. You may want to offer some more flexibility in hours, but you can also ask your employees to be present during the normal work day. That might mean someone works 7am to 3pm, while another person works 9am to 5pm. Consider setting up schedules, which will help keep employees on track.
You could also ask employees to check in, and you may want to use a tool like Monday.com or Airtable to track productivity. Be sure to tell employees what is considered appropriate when using tools like Slack or Zoom. Set rules for joining in on teleconferences, and video meetings. It might seem basic, but asking employees to be appropriately dressed for a video conference isn't a bad idea.
With these tips, you'll be well on your way to creating a successful remote working experience for your team. If you need more tips, contact your nearest Liberty Staffing branch location.