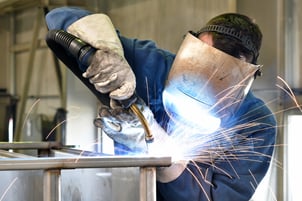 Are you looking for a great job in London, Ontario? Do you have previous MIG Welding experience? Liberty Staffing Services is currently hiring MIG Welders in London, Ontario!
If you've been considering changing jobs, or thinking about gaining a new job, now is the perfect time to do so! We have multiple MIG Welding openings available.
Here's more information about our staffing agency, the MIG Welding jobs, and why you should apply with us.
About Liberty Staffing Services
Liberty Staffing Services is an award-winning independent staffing agency with multiple branch locations throughout Ontario. First established in 1999, we have been helping job seekers find local work for 24 years!
We offer general labour, warehouse, industrial, factory, and office jobs in temporary, temporary to permanent, and permanent positions. Our recruiters have years of experience, and will work with your requirements to ensure that we match you to your dream job.
Our services are free to job seekers.
MIG Welding Job Details
$20 - $22/hour
Day shift
Full time positions
First Day E-Pay Program
Did you know that we offer a First Day E-Pay Program? If you apply with us and start working, we'll pay you right after your first day of completed work!
Liberty Staffing Services normally pays weekly, but we know that bills/expenses can add up quickly. So we're offering to pay you after your first day of work. This will be an advance on your weekly pay.
Apply With Us Today!
Ready to apply to this great job opportunity? Contact our London branch as soon as possible.
Call/text: 519-453-9021
Start our online application:
www.libertystaffing.ca/apply-online/
Visit:
715 Wellington Road South, Unit C
London, Ontario
N6C 4R4