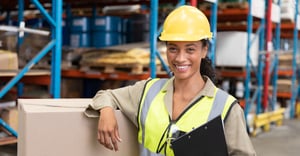 The holidays can get expensive. This year has been different, and you may still need some extra cash to fund presents. Unfortunately a lot of people in Ontario lost their job due to the COVID-19 pandemic. Canadians might find their wallets are a little slimmer this holiday season.
Looking for a job? Let Liberty Staffing connect you to the jobs you want. Apply today!
Temporary jobs around the holidays have always provided a great way to make some extra money at the end of the year. Liberty Staffing Services offers many great temporary positions. If you're looking for a job, think about one of these areas.
1. Customer Service Reps are in Demand
The holiday rush usually means retailers and other customer-facing companies hire more Customer Service Representatives. Even with people switching to online shopping, the need for customer support remains.
So, what's different in 2020? More employers will be hiring remote staff or offering virtual CSR opportunities. You might interact with customers by phone, email, or even web chat.
Of course, some employers are still hiring for in-person positions as well.
2. Warehouses are Hiring All Positions
With the shift to online shopping came increased demand on warehouses. More online orders meant more orders being picked from warehouse shelves, packaged up, and sent out to customers.
Many companies are anticipating even more demand this holiday season. That's why they're hiring for temporary positions in almost every role.
Pickers and Packers will be needed to fulfill each order and ship them on time. Shippers and Receivers will handle the logistics of both incoming and outgoing shipments.
Other logistics personnel, like Supply Chain Specialists and Couriers, will also be required. The warehouse needs all hands on deck to make sure the orders move smoothly this holiday season.
3. Consider Food Packaging Roles
Another industry that gets a boost from the holidays is typically the food industry. Many people traditionally host parties and cook feasts for holiday gatherings.
While in-person gatherings may be off the table this year, that doesn't mean people won't be running up their grocery bills. They could be buying prepackaged treats to send to loved ones far away, or they might be serving up a smaller dinner for just their own household.
One thing's for sure: food still plays a key role in holiday traditions, no matter what they look like. That means food producing companies will be looking for extra hands to help meet holiday demands.
4. Go Remote as an Admin Assistant
Administrative Assistants are almost always in demand, and there's no reason to think there won't be an uptick in hiring this year.
Why? Administrative Assistants are key personnel in handling tricky scheduling situations, and this year, more businesses need that kind of help. Whether it's a dental office or a warehouse that needs scheduled freight appointments in this climate, Administrative Assistants will be important.
Administrative Assistants can also help schedule employees, which will become integral as people juggle flexible schedules, vacation time, and even illness.
Many of these positions can be handled remotely now as well, so you may be able to work from home.
5. Janitorial Jobs are on the Rise
The cleaning services industry has seen a big boost this year, and there's likely to be an even bigger demand for cleaning staff during the holiday season. Why?
First, offices are reopening. Retail stores, gyms, and more are increasing their cleaning efforts to prevent the spread of COVID, especially as foot traffic rises during the holiday season.
Some businesses may also make time to do deeper cleans over the holidays, especially if the office is closed. It could be a very busy few weeks between December and January, so businesses will be hiring.
Find Your Next Job Today
If you're looking for a job, then get in touch with Liberty Staffing Services! We can help you discover not only more temporary holiday jobs, but the right one for you.