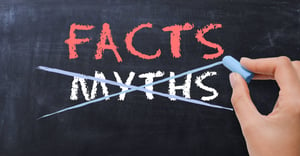 There are a lot of common misconceptions when it comes to temporary jobs. Many people believe that they are only short term assignments, or that they have a low pay rate. This is not the case for all temporary jobs. In fact, there are many great benefits to taking on a temporary job.
Temporary jobs are a great way to make money, gain experience in a new field, and they have potential to become permanent careers. If you're currently looking for work, consider taking on a temporary position. At Liberty Staffing, we have lots of great temporary jobs available. Apply with us!
We would like to dispel some myths surrounding temporary jobs. Read on.
1. Not Full Time
Many people think that temp jobs are not full time. This is not true. Many temporary positions do have full time hours, but they're on a contract basis. For example, you could work a temporary job that is 40 hours per week, but the assignment is projected for 3 months.
Most our temporary roles here at Liberty Staffing have full time hours, and are on an ongoing basis. So if you're looking for full time work, come in and have an interview with us! Our recruiters have years of experience, and can help you find a great temporary role.
2. Dead End Job
Another common misconception regarding temporary positions is that they are considered "dead end" jobs. A lot of temporary positions could become permanent careers, or could lead you into another position within the company.
Temporary jobs are all about what you make it. If you work hard, arrive on time for your shift, and let the manager know that you are interested in staying on permanently with the company, you're chances of gaining permanent employment will increase.
Depending on the role assigned to you by Liberty Staffing, if you work a certain number of hours within the temporary role, the company then has the decision to hire you on permanently. If you show that you're a hard worker, and the company likes you, they can decide to hire you on permanently before that.
3. Low Pay
Many fear that if they take on a temp role, the pay will be low, or minimum wage. That is not true of all temporary positions. Liberty Staffing offers temporary Forklift, Accounting, and Welding positions, etc. These positions require previous experience, and specific credentials/licences, which means that they pay quite well.
There are many more common misconceptions and myths surrounding temporary employment. Don't let these deter you from apply to a great temporary opportunity.
Ready to take on a temporary job with Liberty Staffing Services? Contact a branch location nearest you today! We connect great people with great jobs.