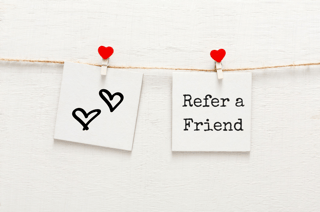 Today is Valentine's Day, which means that it's time to let your family, friends, and significant other know that you care about them. Spread the love and pay it forward this Valentine's Day by referring a friend to register with Liberty Staffing Services. Looking for work on your own is time consuming and frustrating. You can help your loved ones gain meaningful employment by referring them to Liberty Staffing.
Here's how you can refer a friend to our staffing agency.
Our Referral Program
Do you have family members or friends in need of work? Obtaining employment can be difficult, especially if you go it alone. It can take weeks, even months, to get a job in your field.
Liberty Staffing offers a referral program. If you are an assignment employee of Liberty Staffing, refer your loved ones to register for work with us. There is no fee to register with us. We have recruiters with years of experience. Not only will we help your friend find work, but a successful referral will result in you gaining $100. In order for the referral to be successful, the referred candidate must work a minimum of 200 hours. There is no limit to how many people you can refer.
Our referral bonus program can be a pay it forward type of system, in that you can refer someone and help them obtain work, and then that referred person can refer someone else, and so on. Each successful referral results in each person receiving $100, and a great career opportunity.
Who Can I Refer?
You may refer anyone legally able to work in Ontario, Canada. This could be a family member, friend, or significant other.
What Jobs are Available?
Liberty Staffing offers general labour, warehouse, industrial, and office jobs throughout Ontario. We have temporary, temporary to permanent, and permanent opportunities available. We will work with your requirements to find you the perfect position.
The great thing about our referral program is that you and your significant other can potentially work together at the same company, on the same shift, if you would like. If you're currently working with us, you can request this. We would be happy to accommodate, provided that there is an opening available.
Refer a Friend Today
To refer a candidate to us, come in to a Liberty Staffing office nearest you with your loved one. Or, your family member or friend can come in to our office and let us know that they were referred by you. It's as simple as that.
Contact a Liberty Staffing branch location nearest you for further information. We hope you have a great Valentine's Day, and we wish you and your friends love, happiness, and professional success in the year ahead.