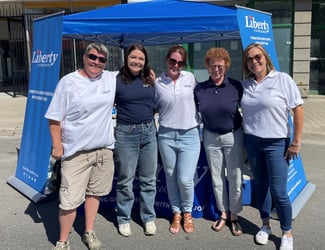 On Friday August 12 and Saturday August 13, 2022, we attended the Woodstock Summer Streetfest. We asked you to join us, and you delivered! Thank you to everyone who joined us for the event! We loved meeting you.
Liberty Staffing Services is an independent staffing agency with multiple branch locations across Ontario. We help job seekers find work. We offer general labour, warehouse, factory, and office jobs in temporary, temporary to permanent, and permanent opportunities.
If you met us at the Woodstock Summer Streetfest, and you're looking for a job in London, Stratford, or Woodstock, apply with us now!
Thank You
First, thank you for attending the Woodstock Summer Streetfest with us. We had so much fun, and we hope that you did too!
If you haven't already applied with us, we hope you'll do so today. Liberty Staffing Services is currently hiring for a lot of great job opportunities in the area.
We're Hiring
Liberty Staffing is hiring! Check out our job board to see what jobs we are currently recruiting for.
Apply With Us Today!
Start our online application. Then contact our Woodstock office.
Call/text:
519-539-7961
Visit:
5 Huron Street
Woodstock, Ontario N4S 6Y9
We look forward to hearing from you! Liberty Staffing connects great people with great jobs.