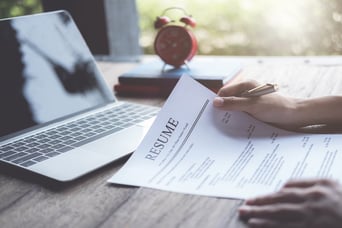 If you're a recent graduate heading into the workforce for the first time, you may be at a loss as to what to put on your resume. After all, if you don't have any work experience, then what should you put on your resume?
First off, congratulations on completing your schooling! That's a great achievement. At Liberty Staffing, we help job seekers find employment in Ontario. We would like to provide you with some resume writing tips to help you land the perfect job.
Follow these tips when writing your resume to help you gain a great job!
1. Be Mindful of Spelling Mistakes
The last thing that you want to do is send out a resume that's full of spelling errors and grammatical mistakes. Employers may toss your resume into the trash if they see even one spelling mistake.
Having spelling mistakes on your resume can make you appear sloppy and unorganized. You want to make a good first impression.
Everyone is human, and everyone makes mistakes. The best way to ensure that your resume is spelling mistake free is to ask a friend or family member to proofread your resume before you send it out.
2. List Your Education and Any School Projects
Whether you just finished secondary school, or you recently completed college/university/trade school, make sure that you list all of your education on your resume.
After you've listed your most recent education, then think about any school projects that you worked on that may be applicable to a job or work experience. Did you create a Powerpoint presentation for one of your school projects? Did you work within a team? Mention any projects that are transferable to the position that you're applying for.
3. Mention Your Volunteer Experience
Last, not certainly not least, list any volunteer experience that you have on your resume. High school students in Ontario are required to complete 40 hours of community service in order to graduate. It would be a great idea to list your volunteer experience on your resume.
Not only does your volunteer experience show that you are a caring and passionate individual, but it also shows that you are responsible.
Apply to Liberty Staffing Today!
Once you've updated your resume with all of these helpful tips, contact your nearest Liberty Staffing branch location today for an interview!
Liberty Staffing offers general labour, warehouse, industrial, factory, and some office jobs throughout Ontario. We have many entry-level job opportunities available. Check out our job board. We'll help you find a great first job!