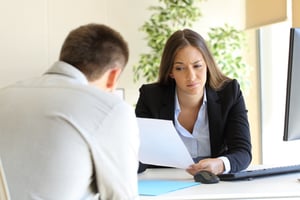 When you're applying to job opportunities, it's critical that your resume has no mistakes. After all, a resume is essentially your first point of contact. A mistake could make or break your chances of landing an interview.
We're all human. So how can you avoid making the following mistakes on your resume? Liberty Staffing would like to give you some tips. Read on to find out the most common resume mistakes, and how you can fix them.
1. Typos/Grammatical Errors
A big one to watch out for is typos/grammatical errors in your resume. Even one small typo can decrease your chances of being called in for an interview.
If you're not great at spelling, how can you avoid sending a resume full of grammatical errors? Ask a friend or family member to proofread your resume. Or, visit a career counselling or resume writing centre and ask for advice.
2. Vague Details
Let's face it – a vague resume is a bad resume. While it's important to get straight to the facts, it's imperative that you be as specific as you can on your resume, without being too lengthy. Be as specific and use action verbs when you are writing out your job responsibilities and previous work experience. Provide the month and year of your work history. A vague resume can leave a potential employer with more questions, and/or just plain unimpressed.
3. Too Short/Lengthy
Take a look at your resume right now. Is it more than two pages in length? If so, you're going to want to cut it down. Anything more than two pages is too long, and employers will most likely toss your resume out before even reading it.
For those who are recent graduates, or entering the workforce for the first time, you may run into the problem of having a very short resume because of your lack of work experience. This is where volunteer experience, education, awards, and any other applicable experience comes in. Be sure to note anything that pertains to your work ethic in order lengthen your resume.
4. Sending the Same Resume for Different Roles
This is a big no-no. It's never a good idea to send out the same resume for different job opportunities, especially if different skills are needed to fill the position. No job is the same.
We're not saying to completely overhaul your resume for every position that you apply to - that would be very time-consuming. We suggest tweaking your resume so that it speaks more directly to the role that you are applying for. Read over the responsibilities of the job description thoroughly, and be sure to note any applicable experience/skills that you have which correlate to the job. Showcase that you are qualified for the position.
5. Incorrect Contact Information
Lastly, but probably most importantly, make sure that your contact information on your resume is up-to-date and correct. There's nothing worse than working hard to perfect your resume, sending it out, and realizing that you have the wrong contact information noted down. How can the potential hiring manager contact you if you've given incorrect contact information?
To fix this, double (even triple) check the contact information listed on your resume before you send it out to any employer.
Need more resume writing tips? Contact Liberty Staffing today for more details. We would be happy to help you.