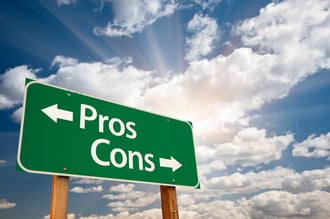 Temp work has been on the rise in recent years. Now, temporary workers play a vital role in the business world and are highly valued in many companies. But are they right for you?
Check out these pros and cons of employing temporary workers. You might find that your business is well-suited to employ temporary workers right now, or that it's an arrangement that you should seriously consider in the near future.
Pro: Adjust Quickly to Workload Fluctuations
Managing fluctuating staffing needs is an inevitability in any business, but one that can have serious consequences. There's no doubt that employees will suddenly call in sick, that they'll take their vacation time, or that they'll go on leave if they need to. And it's no surprise when workers quit without notice. It's also standard practice for business demand to increase and decrease throughout the year.
But if you don't have enough workers on staff, your productivity, efficiency, and morale can go down the drain. Employing temporary workers can help you adjust quickly and efficiently to any workload fluctuations you face.
Pro: Save on Costs
Employing temporary workers can also cut your overhead costs. You won't have to offer the same benefits to temp workers as you do to your salaried employees, such as health insurance, vacation time, or WSIB. You won't have to spend as much money on overtime, either. And you won't even have to pay for the time it takes to administer their payroll, fill out their HR paperwork, or deal with compliance issues. The staffing agency will do all that and more.
Pro: Evaluate Workers without Commitment
If you're tired of wasting time, money, and effort on hiring mistakes, then employing temporary workers might be a good choice. With temp workers, you can evaluate skills in action, without the commitment. You can make sure a worker is a good fit, is great at the job, and is happy in your employ before you extend an offer of permanent employment. If he isn't? Send him back to the temp agency and ask for a replacement. It's that easy.
Con: Safety Issues
Studies show that temp workers are more likely to get hurt on the job, particularly when it comes to certain jobs that are inherently dangerous. Hiring a steady stream of new employees to work with your equipment and machinery can be risky. You need to ensure that your temps are fully trained on health and safety before starting. Your staffing firm can help with this.
Con: Legal Concerns
When it comes to employing temporary workers, you have to make sure that you're careful about their work statuses and follow the letter of the law when it comes to the pay you give them, the duties you give them, and the way you treat them. You could end up facing legal action for worker misclassification. It's always best to hire temp workers through a temporary staffing agency, instead of on your own, to reduce these legal concerns.
Con: Higher Wage Rate
When you hire temp workers, you should expect to pay at least 15% more for their hourly salary. This ensures that you pay them a fair wage, but it also takes into account the markup fee that staffing firms charge for their services. Though you might guffaw at this higher wage rate, know that you're paying for recruiting and hiring expertise and experience as well as the other services the staffing firm provides that saves you money, such as payroll and human resources administration, onboarding and training, and more.
Con: Team Issues
When employing temporary workers, you could get some friction between your temp workers and your permanent workers. Temps are often viewed by permanent staff members as extendable so they don't bother to get to know them, to help them, or to work with them. This can make it difficult for you to create a real team atmosphere. When employing temporary workers, you need to get your entire team on board and help create a positive, welcoming atmosphere.
Want to learn more about hiring temp workers? Contact Liberty Staffing.