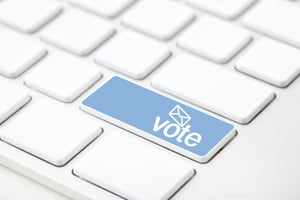 It's that time of year again! The Kitchener Post is hosting their annual Readers' Choice Awards. This is your chance to vote for your favourite businesses/services in the Kitchener area.
Liberty Staffing Services is seeking your vote in the Best Employment Agency category.
We are an independent staffing agency. Liberty Staffing first opened in Kitchener in 2000. We offer general labour, warehouse, industrial, and office position in temporary, temporary to permanent, and permanent opportunities.
Last year, we won first place in our category. If you have used our services in the past, and we have found you work, we hope that you will vote for our agency. Voting is simple and quick to complete.
To Vote:
1. Visit the Kitchener Post Readers' Choice Awards.
2. Click on the "vote" button beside Liberty Staffing.
3. You will then be taken to a window prompt you to sign in to a social network (either Facebook, Google+, or LinkedIn) or registering/logging in with your email address. Do this now.
4. Once logged in, you will return to the voting page. Please click on the "vote" button beside Liberty Staffing again.
That's it! Thank you for taking the time to vote in this contest. We appreciate your support of our business. Contact us if you have any questions.
If you're looking for work in Kitchener, and you haven't applied with Liberty Staffing yet, please come into our office for an interview. We would love to meet you! Liberty Staffing Services connects great people with great jobs.