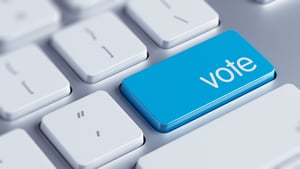 It's that time of year again! We are seeking your vote in the Waterloo Record Reader Awards. Each year, in this contest, you have the ability to vote for your favourite businesses and services in the Waterloo region.
Liberty Staffing is asking for your vote in the temporary staffing category. Liberty Staffing Services first opened in Waterloo in 2002. We provide temporary, temporary to permanent, and permanent staffing solutions to office, warehouse, and industrial businesses throughout Ontario.
If you have used our services in the past to staff your business, we hope that you will take some time to vote for us. Voting is quick and easy to complete. Follow the steps below.
To Vote:
1. Visit the Waterloo Record Reader Awards here.
2. Click the "vote" button beside Liberty Staffing Services.
3. Sign in to a social media account, or log in using your email address.
4. Click on the "vote" button again beside Liberty Staffing.
It's as simple as that! Please have your vote in by Saturday, September 29 at 11:59pm.
Thank you for taking the time to vote for us. We appreciate your support.