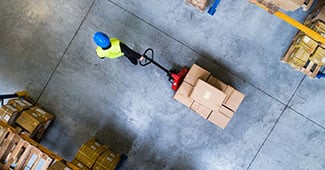 Summer is here and with it comes steamy weather, family vacations, and summer jobs! Finding an ideal summer job can be frustrating and labour-intensive, but knowing where to look is half the battle. One of the best places to find a full time summer gig is in the warehousing industry.
For one thing, warehouses often hire temporary workers for a few weeks or months to fulfill seasonal demands.
In addition, as consumers are increasingly relying on online ordering, Canada's warehousing industry is rapidly expanding. In December of last year, it was worth about $9.2 billion and had grown 3.6% per year from 2016 to 2021. That means temporary workers are very much in demand! The market size of the warehousing industry in Canada is expected to increase by 2.8% this year.
There is a wide range of possible roles as a temporary employee in the warehousing industry, most of which don't require any prior experience, such as: shipping and receiving specialist, general labourer, warehouse associate, warehouse manager, picker or packer, forklift operator, and loading/unloading.
Want to learn more about how to secure a job in the warehousing industry and what skills and qualities to emphasize? Read on and reach out to Liberty Staffing if you're looking for assistance.
Thrive in a Fast-Paced Environment
Warehouses are extremely fast-paced environments, so when seeking a job in the industry, emphasize your ability to adapt to a rapidly changing environment without becoming overwhelmed.
In a large warehouse, there are often hundreds of workers all performing different functions at the same time. You will be required to keep pace with changes, continually follow safety standards, and not become overwhelmed.
Be Adaptable and Flexible
Touting your adaptability and flexibility is one way to increase your chances of securing a summer gig in a warehouse. Warehouses are dynamic environments, which means you must be willing to pivot if necessary and take on different duties that may not fall strictly under your job description.
Another way to show your flexibility is by expressing willingness to take on night shifts or other less traditional schedules as they can be easier to secure and pay more.
Express a Willingness to Learn
Most warehouse workers acquire many skills while on the job, therefore expressing a willingness to learn is an asset. Practical experience is often the best way to learn skills such as scheduling deliveries and shipments and organizing stock. Be open to learning from more senior coworkers and supervisors and take advantage of their expertise and advice.
Have a Positive Outlook and Be a Team Player
In many warehouses, workers operate as a team, working together to meet goals as a unit. To increase your chances of landing a job, be sure to communicate that you understand the importance of being supportive and considerate of your teammates and how your efforts impact the entire operation.
Be Detail Oriented
Regardless of the role you are seeking in a warehouse, be sure to tout your organizational skills and thoroughness. Many warehouse tasks require close attention to detail to ensure accuracy and strict adherence to timelines for fulfilling orders and receiving inventory. Being able to work quickly without compromising safety and quality is ideal.
Looking for a Summer Job in a Warehouse? Liberty Staffing Can Help!
Liberty Staffing has been placing motivated employees in rewarding warehouse industry jobs throughout Ontario for over 20 years. Our recruiting experts are dedicated to finding jobs that suit the unique skills and experience of each candidate.
Are you ready to find a full time summer warehousing job that meets your needs? Start an online application, check out our job board, and contact your nearest Liberty Staffing branch location for more information. We're here to help!