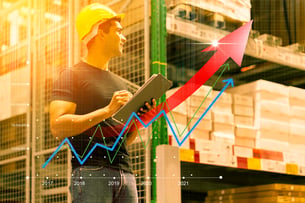 The warehouse industry continues to grow, even though there have been changing trends in many industries throughout Canada in the past few years.
When you need workers for your warehouse, Liberty Staffing is here to help! Contact us today to find out how we can help you navigate the changing economic realities of today's marketplace.
Understanding Growth in the Warehouse Industry
The warehouse industry is growing in Canada. The warehousing industry is currently measured to be worth $9.2 billion. It has grown 3.6% per year from 2016 to 2021. The predicted growth is a little smaller for 2021, but still an increase of 2.1%.
This predicted growth is great news for people who own and manage warehouses, but how can you keep up with the staffing needs which accompany this growth? Let's take a look at some of the trends that can help you make informed staffing decisions in the months ahead.
Recruiting Workers is a Challenge
One of the biggest challenges in warehousing is keeping your business fully staffed. Whether you use permanent or temporary workers, it can be difficult to build an effective team. The first thing that must happen is finding great workers, and the second thing is retaining them.
Building a great workplace atmosphere will help with retention, but what can you do to recruit workers in the first place?
One of the best ways to build a team is to work with a staffing agency. Staffing agencies have connections with people seeking all kinds of employment, and they have the human resources experience to find the best workers for the positions you need to fill.
Technology Continues to Play a Big Role in Worker Management
Technology solutions help you optimize workflows, increase productivity, and make the workplace run more smoothly. When technology is used to its full potential, it allows warehouse workers to do their jobs with more effectiveness and efficiency.
Some of the latest warehouse technologies include scanning goods, recording assets, inventory management, enhancing operations, warehouse management systems (WMS), RFID tags and sensors built into the warehouse's basic infrastructure, and intelligent automation.
Online Retail is Still Growing
A major influencer in the growth of the warehouse industry is the ever-increasing popularity of online retail.
The pandemic prompted more people to shop online, including purchasing items that they had not previously considered buying online. The warehouse industry has been forced to adapt to this increase in online retail by adjusting to high demand, especially for fast service.
If your workplace is going through a worker shortage, everyone in the company feels the pressure, because today's buyers want their online orders delivered quickly, without any delays.
Safety is Just as Important as Ever
One last thing to keep in mind when evaluating labor and staffing statistics for the warehousing industry is the potential for worker injury. It is important to effectively train all new workers in the appropriate safety protocols in your warehouse because you want to avoid workplace injuries and illnesses.
When you have a lot of new workers coming onto your team, you have to train them properly. Safety training is part of your onboarding process.
Are You Looking for Workers?
If you're looking for workers, Liberty Staffing is here to help!
Our job is to find great workers for employers in several industries, including the warehouse industry. Put our expertise to work by letting us recruit great warehouse staff for your business!
Contact Liberty Staffing today to learn more about how we can help. When you're ready to make sure your warehouse is part of the positive trend of growth in the industry, we can help you get there by providing quality workers.